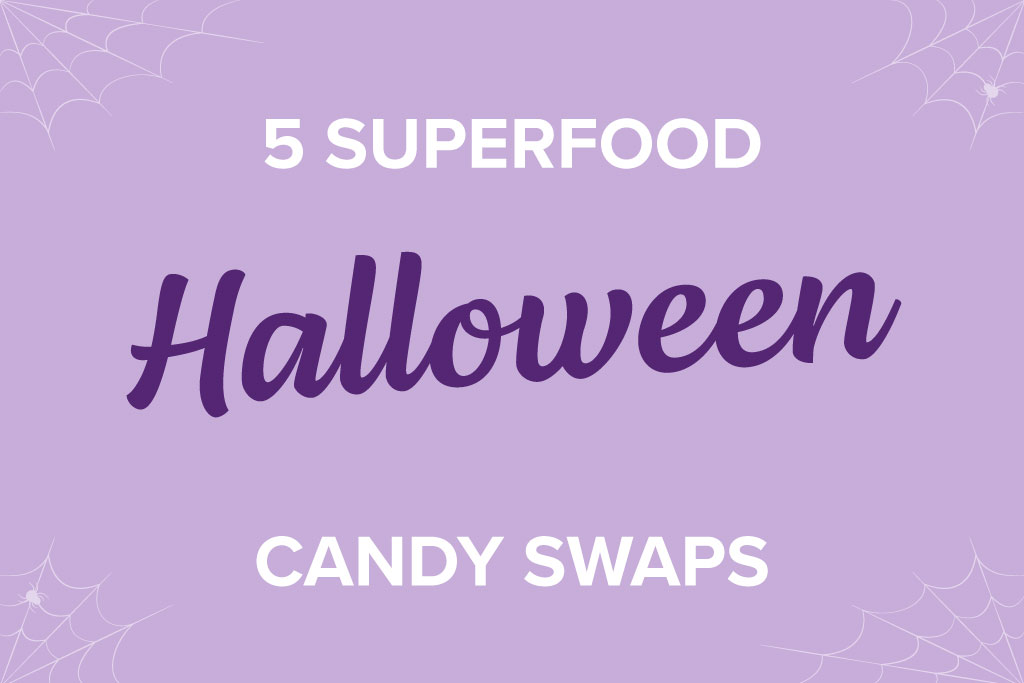 What's the scariest part about Halloween? Is it the goblins? The ghosts? The vampires? No. It's all the spooky ingredients hiding in candy that are harsh on your body and the planet.
But don't be a scaredy-cat—incorporating more plant-based foods into your diet reduces your carbon footprint, has a positive impact on our planet and is better for your body. If you're looking for fun, easy, sustainable Halloween candy ideas that the kids will love, try these easy plant-based swaps that are not so scary for the planet. Happy Haunting!
1. Superfood Gummies
Super Tip: Go crazy with molds! You can use this recipe for gummy bears, worms, stars, any shape your heart desires.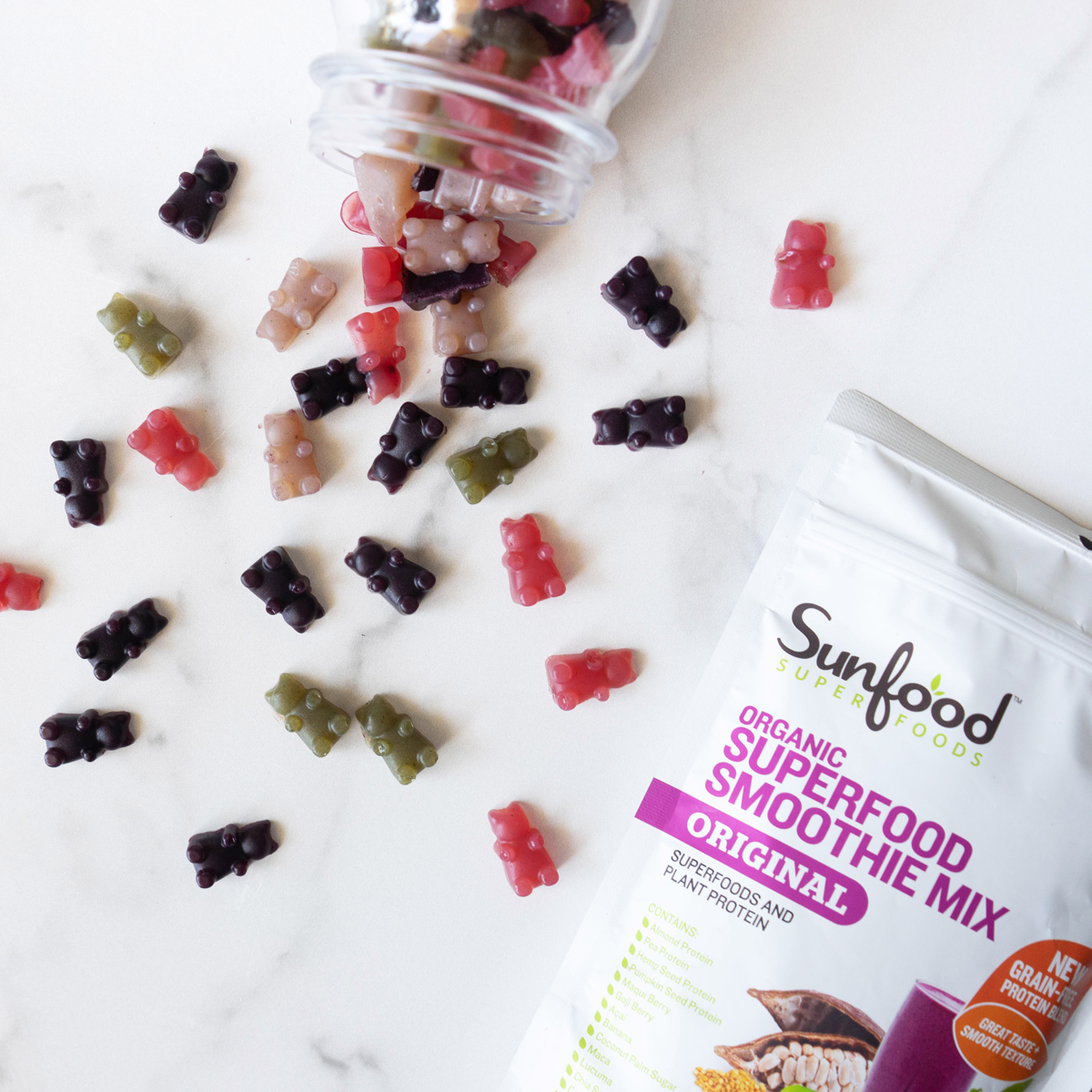 Ingredients
1/2 cup apple juice
2 tsp agar agar
2 tsp agave syrup or honey
1/4 tsp Sunfood Superfood powder of choice (Wellness Super Blend Immunity, Maqui Berry, Camu Camu, Supergreens, Beets & Mushrooms, Superfood Smoothie Mix, etc.)
1/4 cup fresh fruit (optional)
Method
1. If you're including fresh fruit, blend fresh fruit and apple juice in a blender. Strain mixture using a fine mesh sieve. Push pulp with a spoon to extract more liquid. Discard pulp.
2. In a small saucepan, bring liquid, sweetener, and agar agar to a simmer, stirring constantly with a whisk.
3. Simmer for 3 minutes, stirring constantly.
4. Turn heat off, but keep saucepan on stove top. Whisk in Superfood powder of choice until no clumps remain.
Some ideas: Beet Powder for red, Turmeric Powder for yellow, Supergreens for green, Maqui Berry Powder for purple, Superfood Smoothie Mix for pale purple.
5. Using a dropper (we used one that came with the gummy bear molds), fill molds to top and refrigerate for 30 minutes to let set.
6. Gently pop gummy bears out of mold. Store leftovers in the refrigerator. Enjoy!
2. Chocolate-covered Jungle Peanuts
Ingredients
Method
Melt Cacao Paste wafers and Cacao Butter wafers in a microwaveable bowl for 30-second intervals, stirring at every interval.
Stir maple syrup and vanilla extract into melted cacao.
Let chocolate cool slightly. Then pour into a bowl peanuts. Toss until coated.
Spoon chocolate-covered peanuts onto a parchment-lined plate. Sprinkle with sea salt.
Refrigerate clusters for 30 minutes. Enjoy!
3. Peanut Butter Cups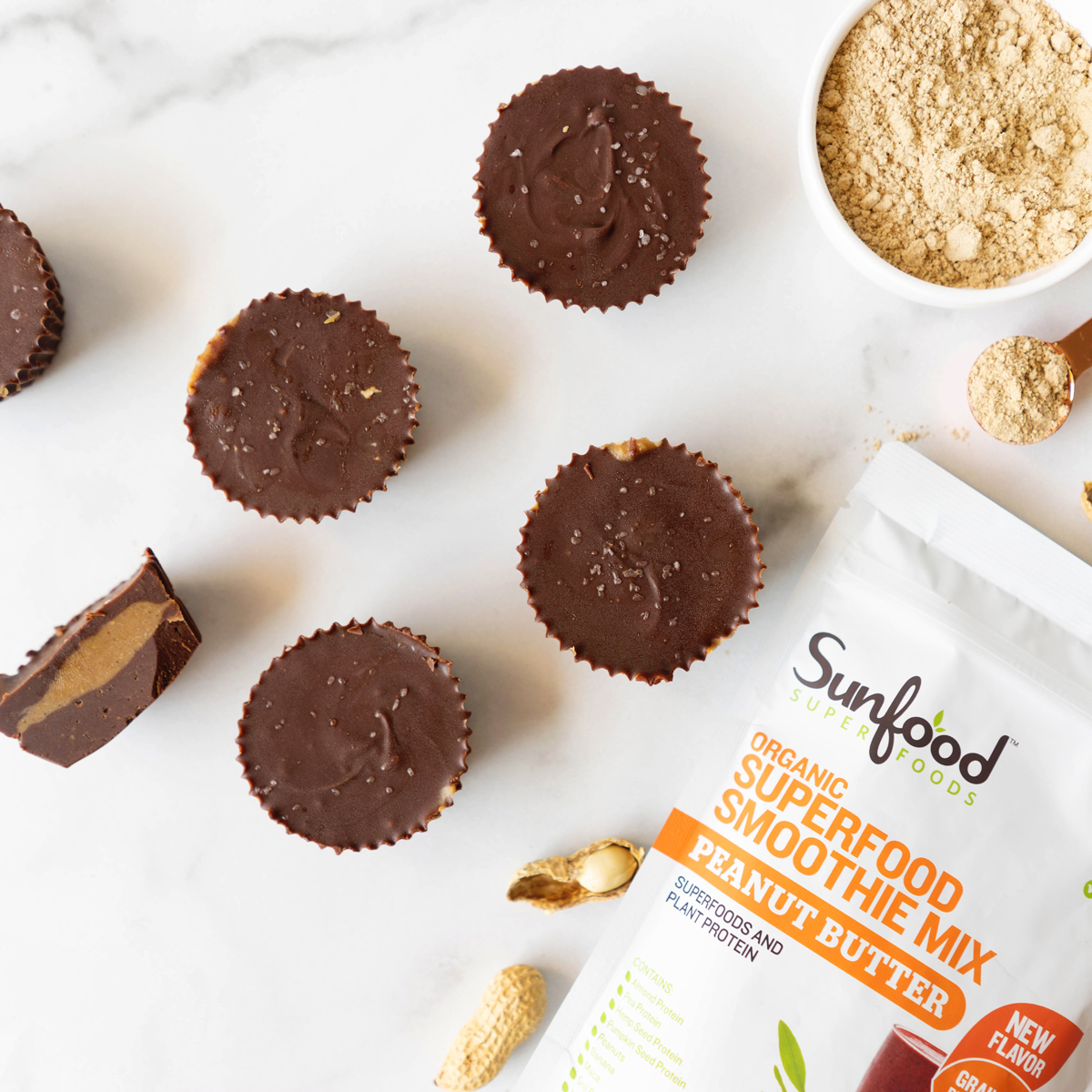 Ingredients
Chocolate Layer:
6 tbsp Sunfood Cacao Butter, melted
6 tbsp raw Cacao Powder
⅔ cups smooth peanut butter
4 tbsp maple syrup
1 tsp vanilla
pinch of salt⠀⠀⠀⠀
PB Layer:
2 Tbsp Sunfood Cacao Butter, melted
2 Tbsp Sunfood Peanut Butter Superfood Smoothie Mix
⅓ cup smooth peanut butter
2 Tbsp maple syrup
1 tsp vanilla
pinch of salt
Method
1. Start with a lined cupcake pan or 10 silicone muffin molds & set aside.
2. Take 6 Tbsp of cacao butter and melt it by double billing. (Place in a glass bowl. Heat about 3" of water in a small saucepan, & add the bowl to the water. Turn down the heat & let the jar sit in the water until melted completely.)
3. For the chocolate layer: Add the melted cacao butter, peanut butter, maple syrup, cacao powder, vanilla, and sea salt. Mix well with & set aside.
4. For the PB layer: take another small mixing bowl & combine all ingredients and mix well. Set aside.
5. Take your prepared cupcake pan/molds and add 1 tablespoon of chocolate layer mixture to the bottom of each cup. Then add 1 tbsp of the peanut butter mixture on top of the chocolate. Bang the cupcake pan gently to get the peanut butter to settle. Finally, top the peanut butter mixture with the rest of the chocolate mixture, giving the cupcake pan a few last taps on the counter, and place in the freezer for 10-15 minutes.
6. Store in the fridge or freezer and enjoy!
4. Turmeric Ginger Chocolate Bar
Ingredients
Method
In a small bowl, combine all ingredients.
Pour chocolate into flat container or chocolate bar mold.
Refrigerate for about 30 minutes or until hard. Store in the fridge and enjoy!
5. Jelly Starts
Super Tip: Enjoy these vegan jelly stars on their own, or enjoy them in a delicious iced matcha latte for a pick-me-up.
Ingredients
1 tbsp Sunfood Pomegranate Powder
1 tsp agar agar powder
1 cup grape juice
1 cup water
1/4 cup sugar
Method
Whisk pomegranate powder, agar agar powder, grape juice, water, and sugar together in a stove pot and bring to a boil. Let boil for about 2 minutes.
Carefully pour mixture into tray and refrigerate for at least 4 hours. Cut into stars (we used a cookie cutter) or chop into cubes.