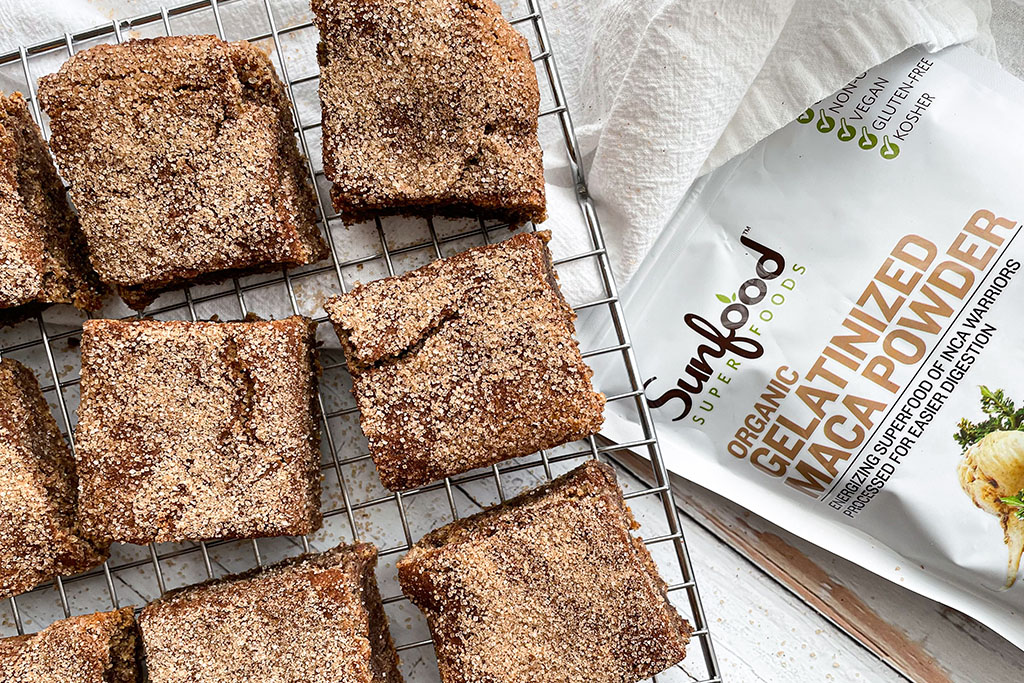 The only thing better than freshly baked snickerdoodles is freshly baked Snickerdoodle Blondies! Grace from @gracefulloats created a delicious recipe that is thick and chewy with a classic cookie crunch on top. They're the perfect treat for sensitive tummies because they're grain-free and made with our Gelatinized Maca Powder for easier digestion than raw powder. Each bite of these Snickerdoodle Blondies will remind you of holiday weekends at grandma's house. Don't tell her we said this, but these plant-based bites of heaven will give even grandma a run for her money. Here's how to make them!
Ingredients
2 Tbsp Milled Flaxseed
5 Tbsp water
2 cup almond flour
1/4 c coconut flour
1 Tbsp arrowroot starch
4 tsp cinnamon - divided
1 tsp Gelatinized Maca Powder
1 tsp baking powder
1/2 tsp baking soda
1/2 tsp Pink Himalayan Salt
1/3 c cashew butter
2 Tbsp melted coconut oil
2 tsp vanilla extract
3/4 cup brown or coconut sugar
1/4 cup oat milk
2 Tbsp cane sugar
Method
Preheat oven to 350 degrees. Lightly grease or line a 9×9 inch pan. Make a flax egg by combining the milled flaxseed and water. Set aside for 5 minutes to thicken.
In a large bowl, combine the flours, arrowroot starch, baking powder, baking soda, 2 tsp cinnamon, maca powder, and salt and set aside.
In another bowl, stir together prepared flax egg, coconut oil, cashew butter, vanilla extract, brown sugar, and plant-based milk.
Stir wet ingredients into the flour mixture until well blended. Spread evenly in prepared pan. The mixture will be somewhat like a cookie batter, so it's best to spread it out with a greased spatula or your hands.
Combine the granulated sugar and remaining cinnamon in a little bowl. Evenly sprinkle cinnamon sugar mixture over the top of the batter.
Bake 25-30 minutes or until the surface springs back when gently pressed. Cool before cutting. Enjoy!