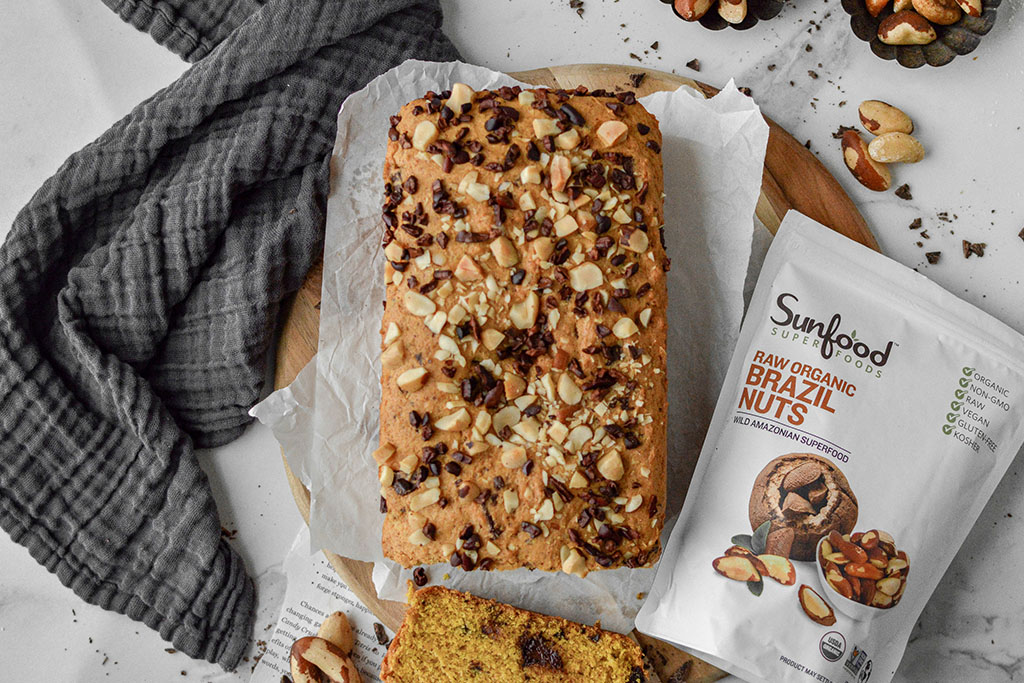 Feeling a little nutty? Get a loaf of this! Every bite of Candice from @wholesome.homemade's Vegan Chocolate Chip Pumpkin Loaf has the perfect balance of fluffy and crunchy. Sprinkled with Sunfood Brazil Nuts which are an excellent source of magnesium and copper, this classic treat will wow everyone at the dinner table.
Ingredients
Method
Preheat your oven to 350 degrees F and lightly grease a 9x5 inch loaf pan.
In a small bowl prepare your flax eggs. Add milled flaxseed and 6 tablespoons of water. Set aside.
In a medium sized mixing bowl, whisk together flour, salt, and baking powder. Set aside.
Next, cream the vegan butter and sugar. Add the pumpkin puree and whisk until smooth. Add the flax eggs and whisk until fully combined.
Now, add your dry ingredients to your wet ingredients. Mix until combined (note, the batter will be thick.)
Carefully fold in your chocolate chips.
Pour your batter into your prepared loaf pan and sprinkle Brazil Nuts and cacao nibs over the batter.
Bake in the oven for 1 hour and 10 minutes or until a tooth pick inserted comes out clean.
Allow your loaf to cool for at least 10 minutes before attempting to remove it from the pan. Enjoy!
Recipe and photo credit: Candice from Wholesome Homemade