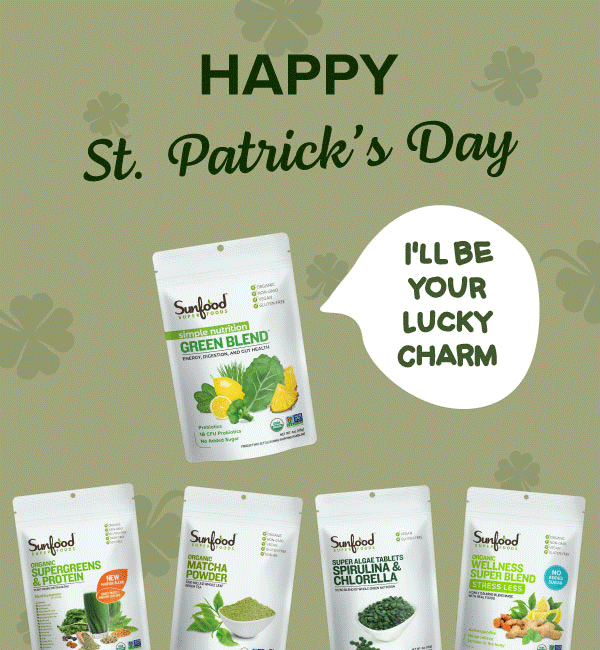 Need some greens for this St Paddy's Day? Lucky for you Sunfood has the best selection of green superfood blends and supplements to load into your pot.
Increase energy, feel great, and look great with Simple Nutrition Green Blend .

Key benefits:

Made with a variety of greens and fruits and added probiotics and prebiotics;
Dark greens are powerhouses of nutrients that can help keep the gut happy;
Greens can help keep digestion running smoothly and the body working optimally;
Incorporating greens into your routine can lead to a healthy and robust immune system;
No added sugar.*
We love Supergreens for its energy-supporting benefits. It's an excellent source of vitamin B12 and iron – critical nutrients for steady energy levels during the day.

It boasts 19 green superfoods with probiotic and enzyme complex in each serving to help you keep your gut happy.

We took our Supergreens and added a grain-free, plant protein blend, and Supergreens & Protein was born. This is perfect for those who need an extra protein boost in their diet.

You'll be getting the same benefits as Supergreens plus 23 grams of protein per serving.
Stress can creep up at any time. Wellness Super Blend Stress Less is a solution that can help keep it at bay, so you can stay engaged and get more done without skipping a beat.


Key benefits:

Made with Ashwagandha, an adaptogenic Ayurvedic herb to help ease tension in the body.
Vitamin C helps reduce the over-taxation of the immune system caused by stress.
Ginger helps calm the gut.

The result is a calmer and more focused you.**
We're super into algae like chlorella and spirulina here at Sunfood.

Chlorella is a microscopic single-cell freshwater alga and is a good source of the antioxidant vitamin A.

Spirulina & Chlorella Tablets are very popular among our customers. They are a good source of iron and an excellent source of vitamins A and B12. Vitamin A is a skin-friendly antioxidant.

Chlorella and Spirulina help with energy levels and are great for the complexion.

Brilliant combination, if you ask us.
Matcha is known for increasing energy levels without the jitters and helping the metabolism run smoothly.

Adding Matcha to your daily regimen can help protect the skin from future damage and premature signs of aging.

Matcha lattes have been popular for a reason - energy and radiance in one easy cup.