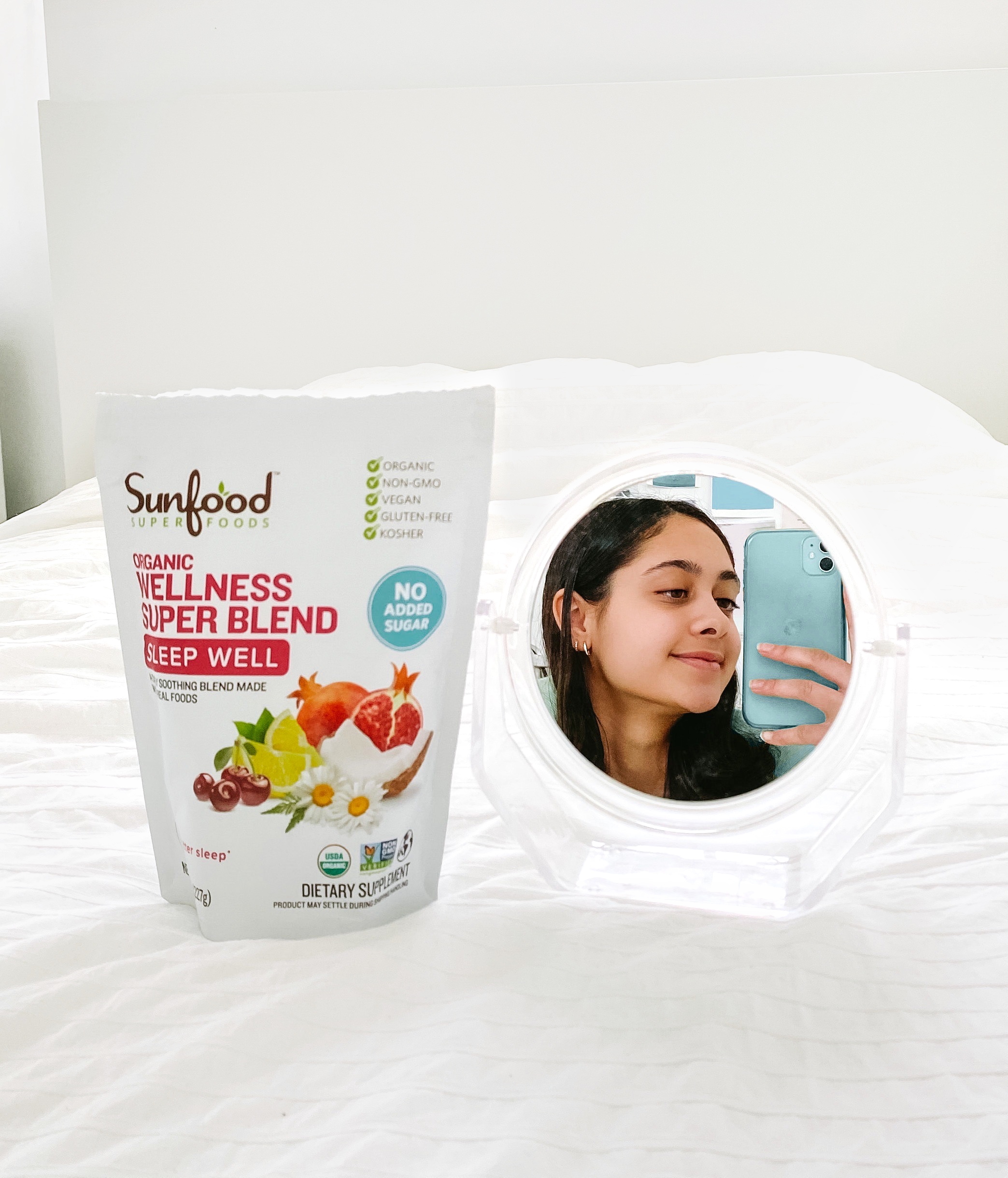 When was the last time you had a good night's sleep? If it's been a while, don't be embarrassed – you're not alone! Between work, adulting, and the general chaos of life, many people struggle with getting enough rest. A superfood-packed nighttime routine may be your key to deeper sleep. Meet Sonya from @activecactus. This lifestyle blogger who is passionate about self-care spoke with us about the importance of winding down before bed. She shared how she incorporates superfoods, including our newest superfood blend, Wellness Super Blend Sleep Well, into her routine to help her get the rest she needs.
What role do superfoods play in ensuring you get a restful night's sleep?
Getting the right nutrition can play a vital role in how you sleep. For example, in the Sunfood Wellness Super Blend Sleep Well—coconut water can help ease muscle tension, and tart cherry can help support the body's natural rhythms.* It's non-habit forming and can help support the body's natural rhythms to promote a good night's rest.*
How important is proper sleep in your busy life and why?
Super important! The sleep I've had the night before is usually an indicator for how my day is going to go. I always make sure I'm well rested so I can tackle the day ahead.
What 3 tips do you have for waking up energized and ready to take on the day?
Definitely turning off screen time 30 mins before going to sleep, doing meditation, and making sure you're cozy with a pair of warm socks.
What is your nightly routine before going to bed?
I have curated my own nighttime routine which has been an amazing way to unwind at the end of a long day! The main things I would suggest are making Wellness Super Blend Sleep Well, doing some yoga or stretches, and reading a book before going to sleep.
What activities do you love to do during the day that require a lot of energy?
I work out around 4 to 5 times per week! I love doing cardio, yoga, and swimming.
Tell us about your top 3 superfoods that fuel your active and busy lifestyle.
I love the Raw Organic Almonds as I can grab them and go when I'm on my way to a workout class. The Wellness Super Blend Sleep Well is definitely also essential for getting a good night's sleep! This blend can make me feel more rested and ready to take on the next day. I have also been using the MSM Lotion to moisturize and cool my skin, especially during the winter months.
What ONE benefit would you say you've received and valued most from deeper sleep?
The biggest benefit from a deeper sleep is definitely feeling calm and more energized when I wake up.
Any advice or messages of encouragement for others struggling to get proper sleep?
I would definitely recommend making a nighttime routine for others struggling to get good sleep. This routine can look different for each person, and it takes time learning the one that's right for you. My routine is essential for me and makes a huge difference! When you have healthy habits in place before going to sleep, it makes it so much easier to get a proper rest.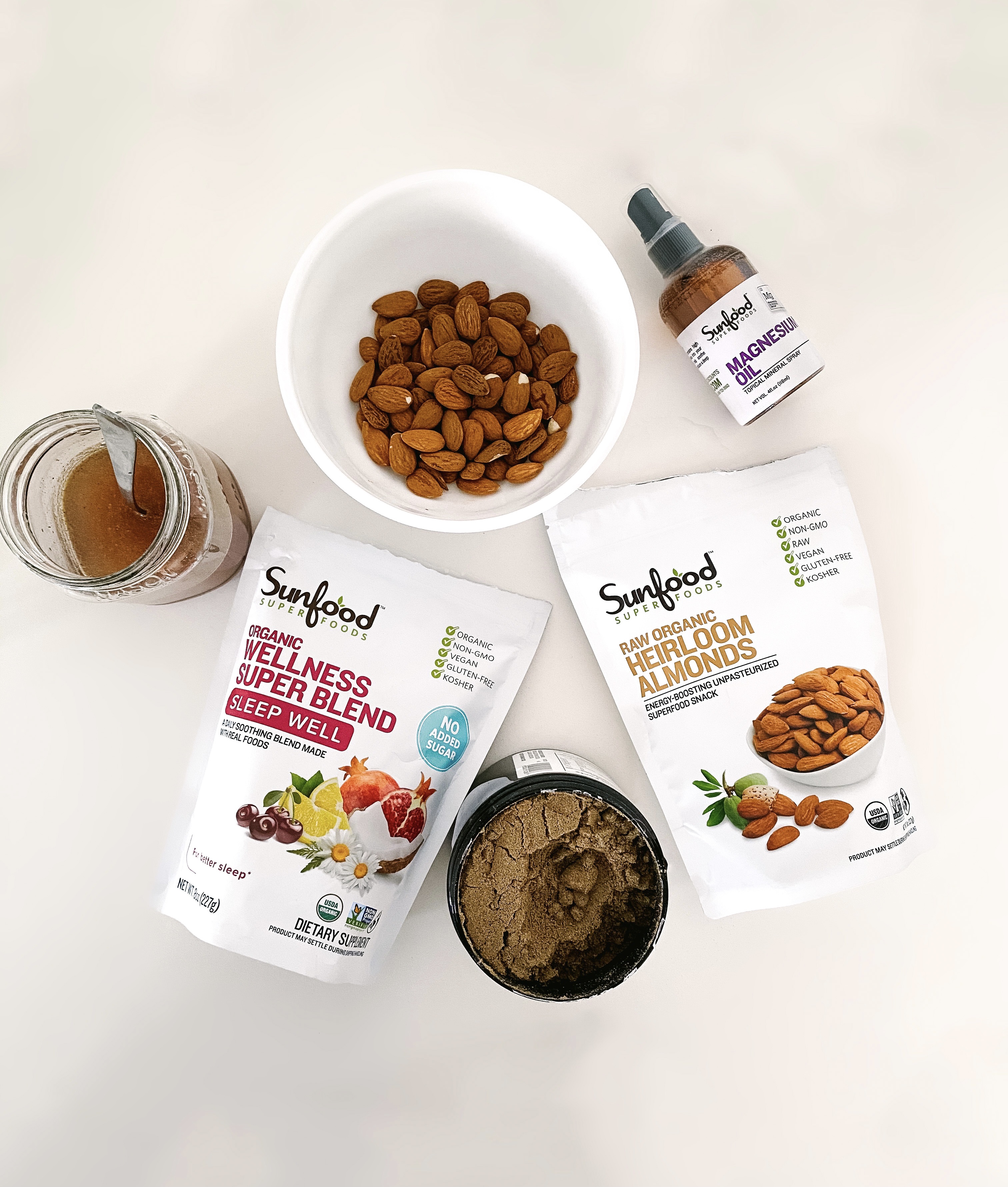 Photo Credit: Sonya from @activecactus

*These statements have not been evaluated by the Food & Drug Administration. This product is not intended to diagnose, treat, cure or prevent any disease.
Sunfood's "Natural Solutions" does not promote or suggest natural cures, natural healing or natural remedies for any disease, disorder or ailment thereof. This information should be treated as educational material gathered and discovered from various studies, clinical trials, and customer reviews. It is designed to encourage healthy lifestyles and independent conclusions in regard to natural products and alternative health choices. It is best to consult with your healthcare practitioner before attempting any form of natural cure, natural healing or natural remedy to any health issues.