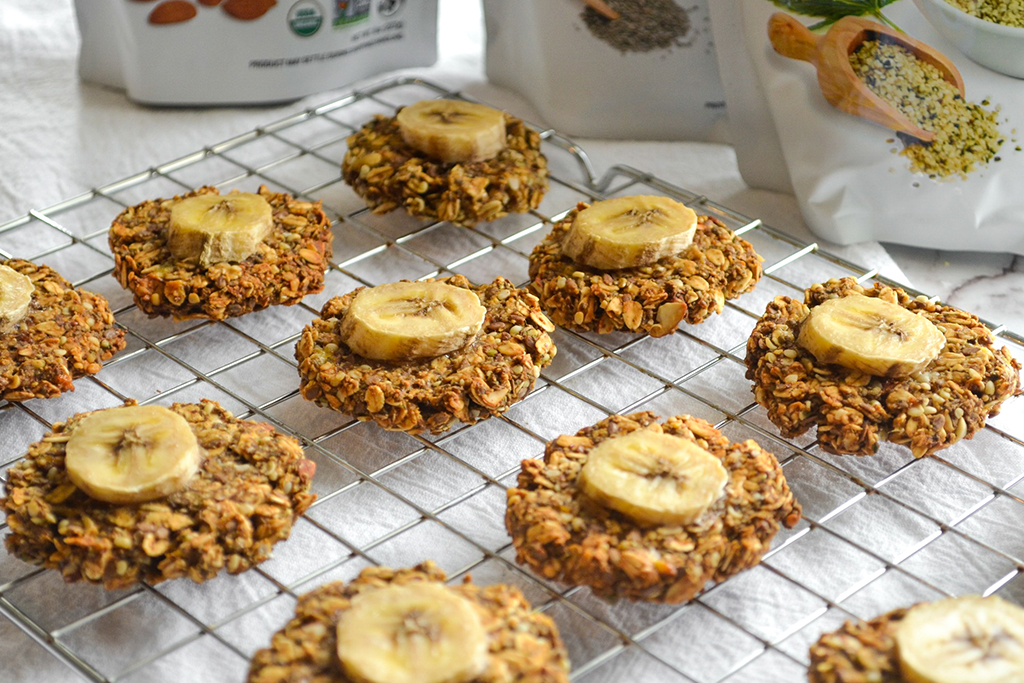 Cookies for breakfast? Yes, please! These Banana Bread Breakfast Cookies by Alexis from @lexlahnhealth are going to rock your world. Loaded with healthy nuts and seeds like flax seeds, almonds, chia seeds, and more, these cookies contain omega-3 fatty acids and dietary fiber that may help support optimal digestion and gut health. Not only do these sweet and crunchy bites make a fun treat for you and the kids, but they're good for you too!
INGREDIENTS

DRY:

1 ½ cups rolled oats
½ cup oat flour
1 tsp baking soda
1 tsp cinnamon

WET:

1 medium overripe banana
¼ cup all natural agave nectar
¼ cup unsweetened applesauce
1 tsp vanilla extract
2 flax eggs (2 tbsp Sunfood Milled Flax Seed + 6 tbsp water)

ADD-INS:

TOPPING:

METHOD

Preheat the oven to 350°F and line 2 medium baking trays with parchment paper.
Prepare flax eggs by whisking together 2 tbsp milled flaxseed with 6 tbsp water. Refrigerate for 15 minutes to thicken.
In a medium bowl, whisk together all the dry ingredients.
Remove the flax eggs from the refrigerator and add into the dry ingredients. Mash the overripe banana with a fork until only small chunks remain. Add the mashed banana into the bowl, alongside all the other wet ingredients. Mix until well combined.
Fold in the almonds, seeds, and hemp seeds, and form dough into 20 dough balls, each using approximately 1 tbsp of the dough.
Press each dough ball slightly down with a fork in a crisscross pattern, as they will not spread to flatten within the oven. Slice up the topping banana into 20 pieces, and place a piece on top of each cookie.
Bake for 15 - 20 minutes or until golden.
Cool on the tray before transferring to a rack to fully cool.
Enjoy!
Check out https://www.instagram.com/lexlahnhealth/ for more superfood recipes from Alexis.