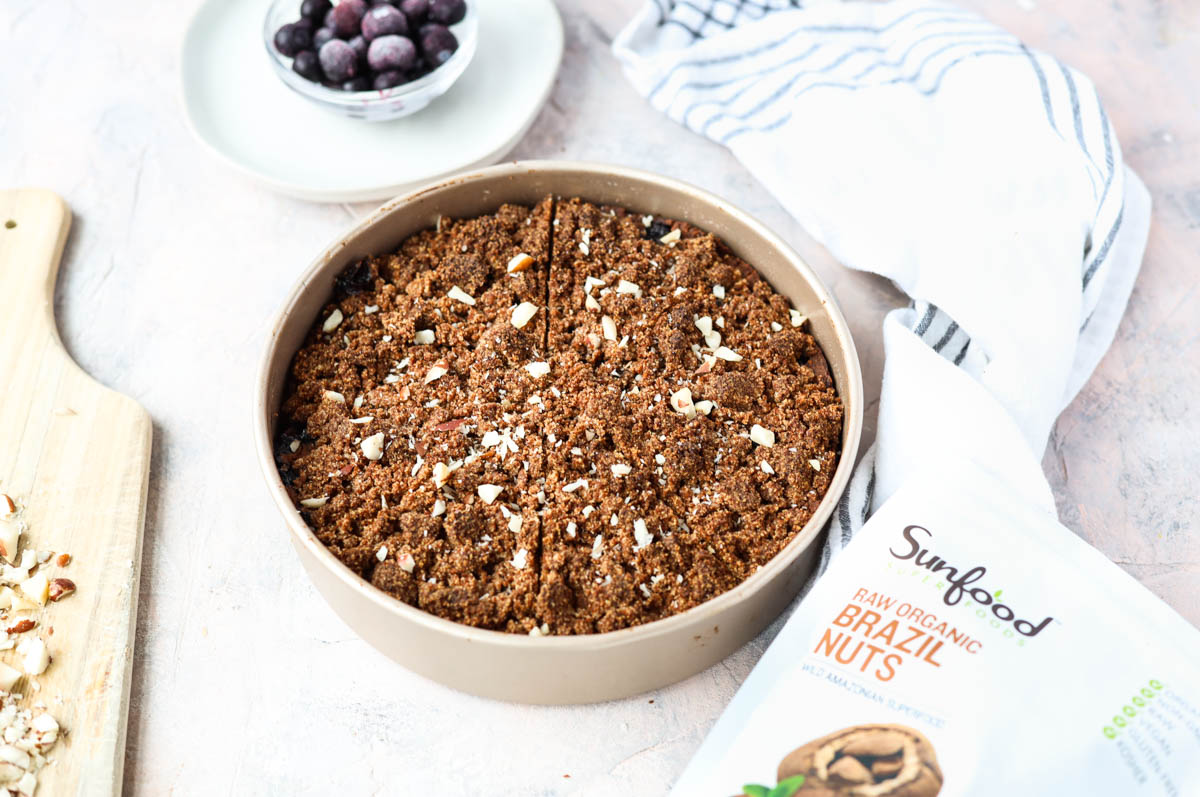 We can't think of a cozier way to start the morning than with a hot cup of coffee and a slice of sweet coffee cake. Mariah from Fresh Water Peaches created one of the most delicious and easiest coffee cake recipes you'll ever try – and it's packed with superfoods! Made with gluten-free flours, fresh blueberries, and crunchy Sunfood Brazil Nuts, this plant-based slice of heaven will quickly become a favorite treat to make at home with the kids, share with your coworkers at the office, or enjoy all to yourself. Here's how to make it!
INGREDIENTS:
Dry Ingredients
Wet Ingredients
½ Cup Applesauce
¼ Cup Coconut Oil, Melted
⅓ Cup Coconut Sugar
1 Tablespoon Apple Cider Vinegar
Crumble Topping
½ Cup Almond Flour (made with Sunfood Almonds)
⅓ Cup Coconut Sugar
3 Tablespoons Softened Coconut Oil
1 Teaspoon Cinnamon
Add-Ins
METHOD:
Start by whisking together all dry ingredients. In a separate bowl, whisk together wet ingredients.
Next, pour the dry mixture into the wet mixture and fold together until a thick dough forms. Gently fold in the blueberries and chopped brazil nuts. Spread the cake batter onto a greased 9x9 round cake pan. (Coconut oil works great!)
For the topping, add almond flour, coconut sugar, coconut oil, and cinnamon into a small bowl. Use a fork or your hand to mix together until a crumbly mixture forms.
Sprinkle the crumble mixture on the cake until it's completely covered. Bake at 350 degrees for about 55 minutes.
Top with extra chopped brazil nuts, and let cool for at least 30 minutes before cutting.
Check out https://www.instagram.com/freshwaterpeaches/ for more nourishing recipes from Mariah.