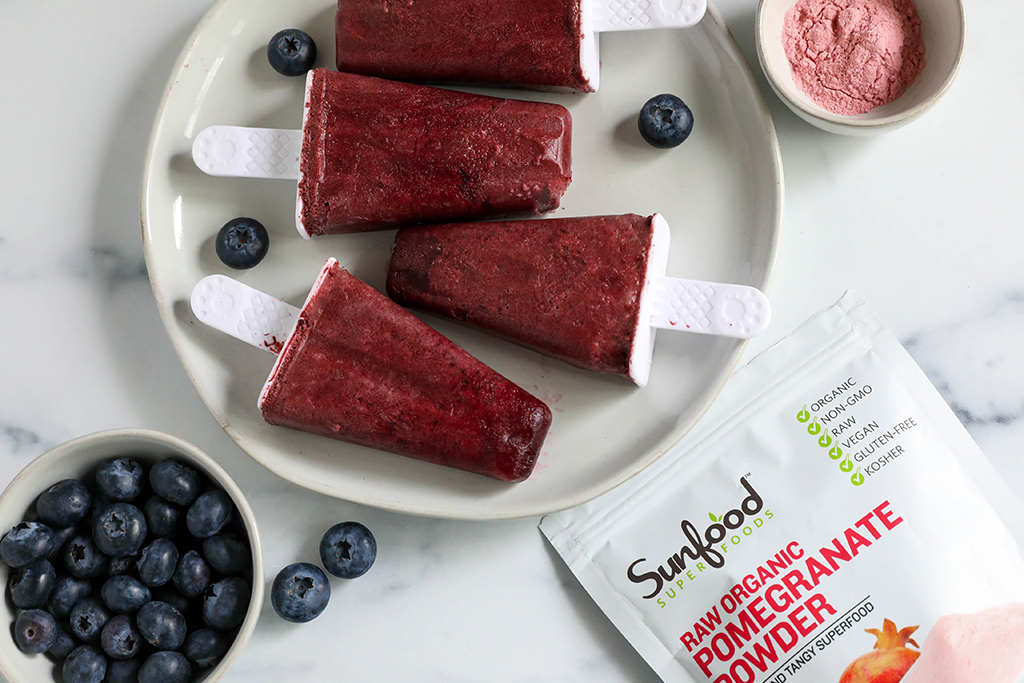 There's nothing quite like an icy, refreshing popsicle to cool down on a hot day. Spring is in full bloom and summer is right around the corner. Lauren from @flora_and_vino's Blueberry Pomegranate Popsicles are made with frozen blueberries, creamy coconut milk, and Sunfood Pomegranate Powder for that tangy sweetness. This is the perfect recipe to make with the kids when school's out because it only uses 4 ingredients and 5 simple steps. The most important step? Enjoy.
INGREDIENTS

1 15-oz. can coconut milk lite
1-2 TBSP pure maple syrup
1 cup frozen blueberries

METHOD

Add the coconut milk, maple syrup, blueberries, and Sunfood Pomegranate Powder to a high-speed blender or food processor. Blend until smooth and creamy.
Pour the mixture into popsicle molds. Depending on the size and shape of your molds, the mix will make 6-8 popsicles.
Transfer the mold to the freezer and allow the popsicles to freeze for 8 hours or overnight.
Remove the mold from the freezer and let it sit at room temperature for about 10 minutes before serving, or run the outside of the mold under warm water for 30 seconds for easy removal.
Enjoy immediately! Store any leftover popsicles in the freezer for up to one month.
Check out @flora_and_vino for more tasty recipes from Lauren.