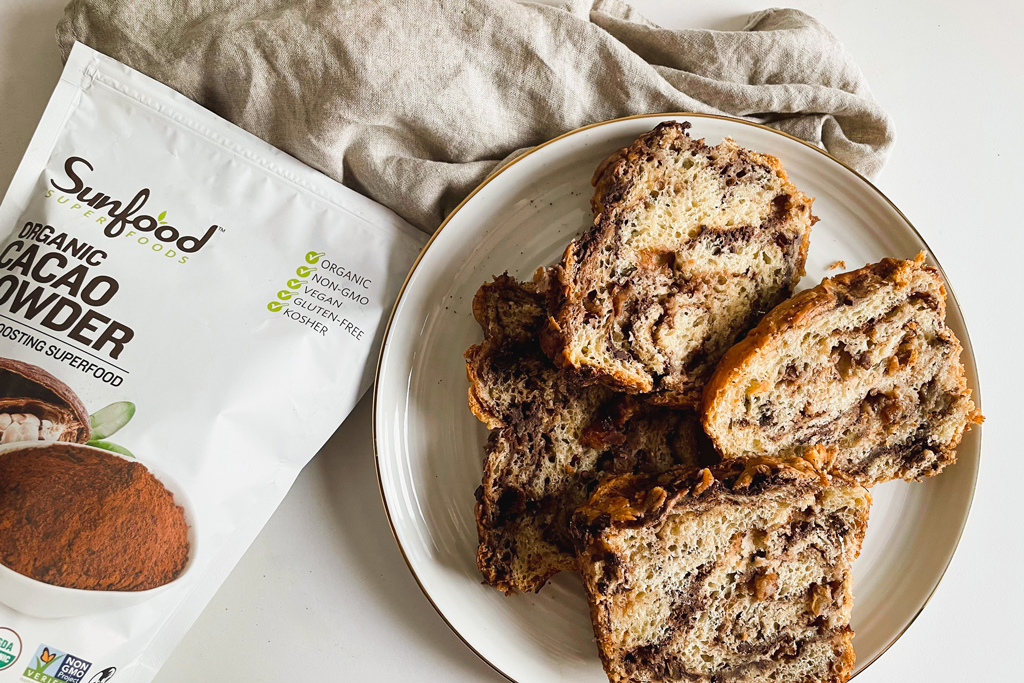 From cardigans and changing leaves to PSLs and apple-picking – we are excited autumn is finally here. Ali from @wellness.with.ali's Chocolate Apple Sweet Bread delivers the warm fall flavors you know and love with every single bite. This soft and fluffy bread is plant-based and loaded with nutrient-dense superfoods, which means it's kinder to the environment, animals, and you. Plus, it's topped with cacao nibs for that perfect crispy crunch. A slice of Ali's Chocolate Apple Sweet Bread makes a cozy companion to your morning cup of coffee or a decadent choice for your nightly dessert.
Ingredients
Bread:
3 1/2 – 4 cups wheat flour
1 package instant yeast
1 tsp salt
1 /2 cups almond milk
1/4 cup maple syrup
Chocolate filling:
1/3 cup vegan butter softened
2/3 cup brown sugar
2 heaping tbsp Sunfood Cacao Powder
1 vegan chocolate bar
1 large chopped apple
Glaze:
1/4 cup water
1/4 cup cane sugar
Method
For the bread
In a large bowl, whisk together 3 1/2 cups flour, yeast, and salt.
Next add the almond milk and maple syrup. Fold until mostly combined. Sprinkle a little more flour if needed to not be sticky and form a ball.
Once the ball is formed, grease the same bowl mixed in and place the dough ball back into the bowl.
Cover with a towel or plastic wrap and let sit for 60-90 minutes in a warm place until it doubles in size.
For the filling
In a small bowl combine the sugar and cacao powder together.
Once the bread has risen, preheat the oven to 350 degrees.
Then lightly flour a surface and roll dough out until it forms a 12×15 rectangle.
Brush the butter across the entire surface. Evenly sprinkle the cacao powder and sugar mixture across the dough.
Break the chocolate bar into small chunks and evenly sprinkle across.
Spread apple chunks evenly across.
Starting on one side, roll the dough into a log.
Carefully place the log using a back and forth movement lengthwise a well-greased loaf pan.
Place in the oven for 60-70 minutes or until done.
For Simple Glaze
While baking, add sugar and water to a small pot and bring to a boil.
Stir and let boil until all sugar is dissolved and let cool.
When the bread is done, brush the simple sugar glaze onto the top, sprinkle on some cacao nibs, and enjoy!