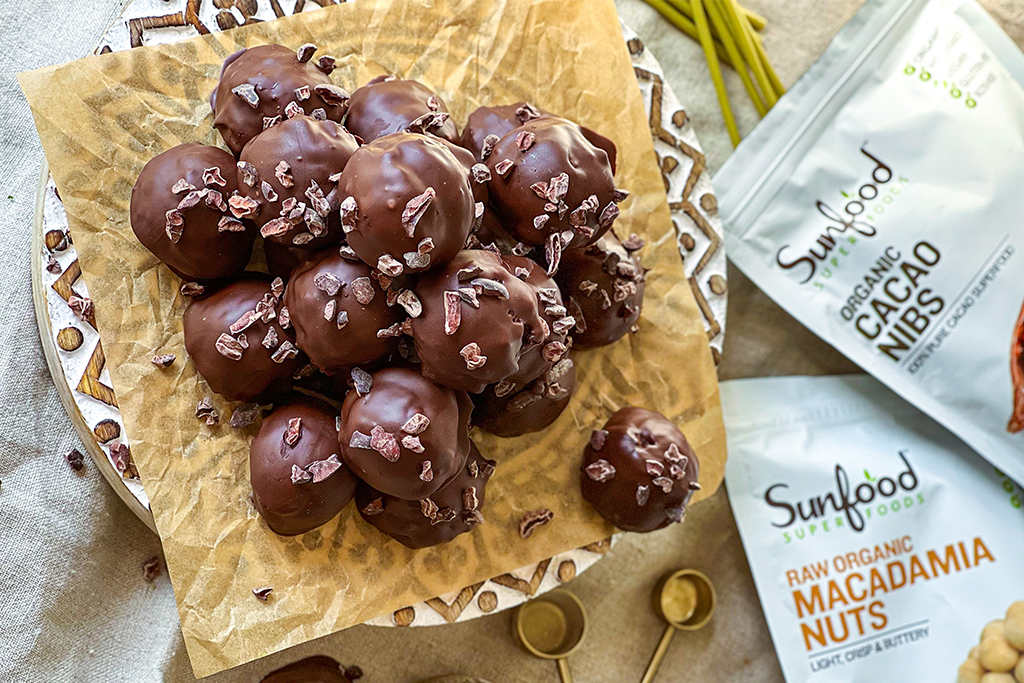 Fudgy. Chocolatey. Superfood-packed. Jackie from @jackfruitfulkitchen made a vegan, grain-free, and refined sugar-free recipe that you're going to love: Chocolate-Covered Fudge Brownie Truffles. Just one bite of these sweet morsels will have you vibrating at a higher frequency. The super smooth and creamy texture tastes rich and decadent but is crafted with nutritious dates, power-packed macadamia nuts, and antioxidant-rich cacao! Plus? They take just minutes to make. Here's how to do it!
INGREDIENTS

TRUFFLES

CHOCOLATE COATING

1/2 cup sugar-free dark chocolate chips
1/2 tsp refined coconut oil
2 tbsp Sunfood Cacao Nibs

METHOD

Add all ingredients for truffles except water to a food processor. Blend on high until smooth and a bit crumbly. Depending on the moisture content in your dates, add 1 tbsp of water at a time until a sticky dough forms.
Use a 1 tbsp sized cookie scoop to scoop 20 truffles onto a parchment lined tray. Place in freezer for 10 minutes.
Meanwhile, add chocolate chips and coconut oil to a microwave safe dish. Heat at 50% power in 30 second increments until melted.
Remove truffles from freezer and place each truffle into the melted chocolate with a fork. Remove from chocolate and let excess drip off. Place back on parchment.
Sprinkle with cacao nibs. Place in fridge or freezer for at least 30 minutes before serving. Store in fridge or freezer for up to two weeks.
Check out @jackfruitfulkitchen on Instagram for more fun recipes from Jackie.