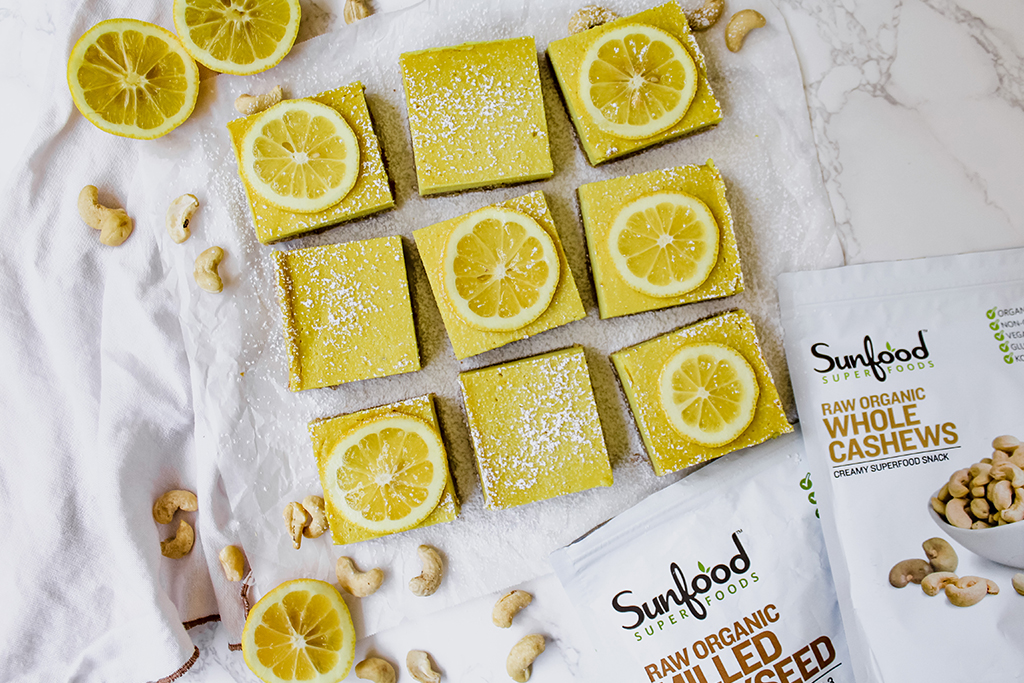 Nothing says spring like fresh lemon. These Creamy Vegan Lemon Bars are simply the zest. All puns aside, Valeria from Nuts About Greens's recipe made with Sunfood superfoods is gluten-free, oil-free, plant-based, and free of refined sugars. With its bright yellow color and creamy cashew base, it's the colorful spring pick-me-up you MUST indulge in this season. Oh, and did we mention? It's really easy to make!
INGREDIENTS

CRUST:

CRUST:

1 cup Sunfood Cashews, soaked for at least 4 hours
3/4 cup coconut cream, from a can (or put a can of coconut milk in the fridge overnight and use only the cream part)
1/2 cup fresh lemon juice
2 1/2 Tbsp cornstarch
1 Tbsp lemon zest
1/3 cup pure maple syrup
1 tsp vanilla extract
1/8 tsp Sunfood Turmeric (optional, for color)

METHOD

Preheat oven to 350 degrees F. Line an 8x8 baking pan with parchment paper.
In a medium mixing bowl, make the flax egg. Set aside for 5 minutes to thicken.
Add the tahini, maple syrup, and salt to the bowl. Mix with a spatula until combined. Add the oat flour and almond flour. Mix until everything is well combined. If it seems too dry, add a little more maple syrup. It should be a thick dough.
Transfer dough into the lined pan and firmly press down with your hands until it is evenly spread into the base of the pan. You want to really pack it down.
Bake for 15-20 minutes until lightly golden brown. Let it cool for 15 minutes.
In the meantime, make the filling. Blend cashews and add the rest of the filling ingredients into the blender. Blend on high until very creamy and smooth. Taste filling and adjust flavors if necessary. You want a very lemony filling that isn't super sweet.
Pour filling on top of the pre-baked crust and spread into an even layer. Tap pan on the counter to remove any air bubbles.
Bake for 20-25 minutes. Let it cool on the counter for 30 minutes. Then place in the fridge, uncovered, to cool completely for at least 4 hours or preferably overnight.
After it cools completely, lift the bars out with the parchment paper onto a flat surface and slice into bars. Top with powdered sugar or thin slices of lemon if you want.
Enjoy! Store leftovers in the fridge.
Check out https://nutsaboutgreens.com/ for more plant-based recipes from Valeria.