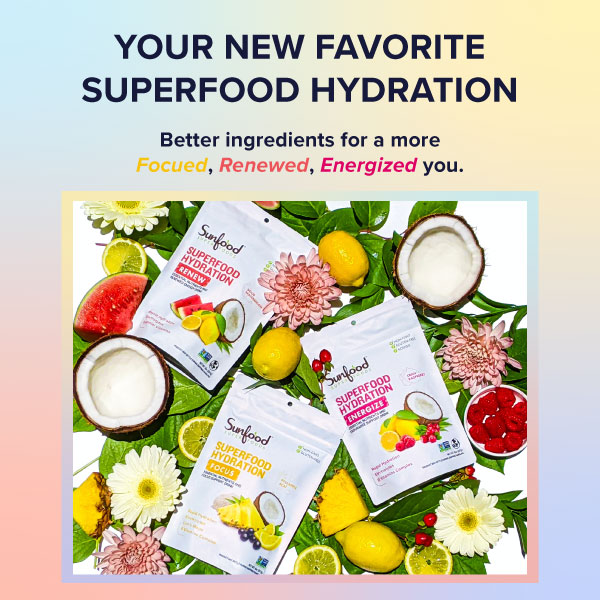 What if we told you we created three new blends to keep your body hydrated with cleaner electrolytes than leading sports drinks? Well, we have.
Introducing Superfood Hydration ! Superfood Hydration Energize, Focus, and Renew were crafted to provide effective nutrition for optimal hydration, recovery, and wellbeing. Not only are these blends low calorie and packed with superfood nutrition, but they come in three unique, delicious, and mouth-watering flavors – Cran-Raspberry, Pineapple Acai, and Sour Watermelon.
What Makes Sunfood's Superfood Hydration Different?
Sunfood's Superfood Hydration line is unlike any other hydrating product on the market. Unfortunately, the purely natural hydrating products out there do not contain enough nutrients to be effective. And the highly synthetic ones are chalk-full of unnecessary low quality fillers like dextrose and cane sugar – yuck! Sunfood has taken the best of both worlds and created a hybrid product – a coconut water based superfood blend boosted with nutrition from high quality vitamins and minerals.
Our Superfood Hydration Energize is a cleaner way to energize your adventures.

Flavor: Cran-Raspberry

Key Benefits

Packed with B2, B6 and B12 vitamins for clean, enhanced energy production;
Rich in Magnesium to support total well-being;
Utilizes a cleaner electrolyte source than leading sports drinks;
Contains electrolytes like magnesium, potassium, and sodium which are essential for athletic performance;
Plant-based formula with real ingredients.*
Increase energy and support brain and nerve health with Superfood Hydration Focus .

Flavor: Pineapple Acai

Key benefits:

Packed with B3 and B6 vitamins, minerals, and electrolytes designed to support your total well-being;
Built to support mindfulness and enhance concentration;
Provides ultra-hydration;
Crafted with Lion's mane for enhanced focus;
Plant-based formula with real ingredients.*
Our new Superfood Hydration Renew supports rapid hydration and recovery.

Flavor: Sour Watermelon

Key benefits:

Packed with essential vitamins, minerals, and electrolytes;
Formulated for overall revitalization and wellbeing;
Contains biotin for healthy hair, skin, and nails;
Folic acid for nerve health and women's health;
Zinc for lung health.*
The wait is over! Try out these multifunctional sport drinks to boost your hydration, immunity, beauty, women's health, energy, heart health, cellular health, and muscle health.
*These statements have not been evaluated by the Food & Drug Administration. This product is not intended to diagnose, treat, cure or prevent any disease.
Sunfood's "Natural Solutions" does not promote or suggest natural cures, natural healing or natural remedies for any disease, disorder or ailment thereof. This information should be treated as educational material gathered and discovered from various studies, clinical trials, and customer reviews. It is designed to encourage healthy lifestyles and independent conclusions in regard to natural products and alternative health choices. It is best to consult with your healthcare practitioner before attempting any form of natural cure, natural healing or natural remedy to any health issues.