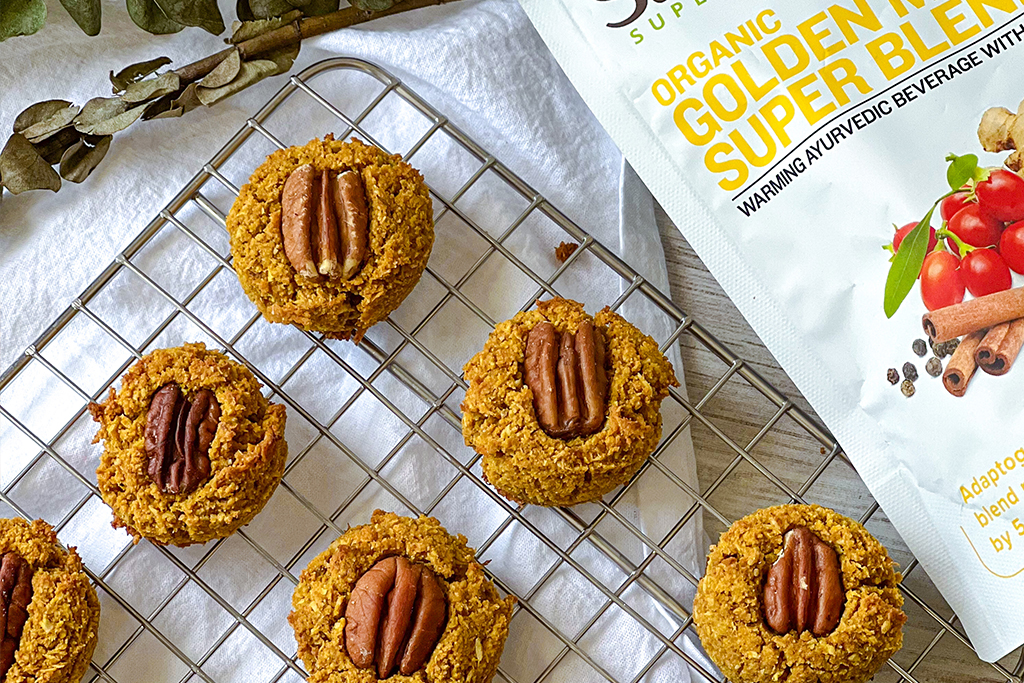 Stop what you're doing and make these superfood cookies! Jackie from @jackfruitfulkitchen's Golden Milk Coconut Macaroons are healthy enough to enjoy for breakfast but tasty enough to eat for dessert. These gluten-free morsels pair really well with a hot cup of coffee or a hot mug of bed time tea. The secret ingredient in these delightful little treats is Sunfood Golden Milk Superfood Blend! It is an ancient Ayurvedic elixir made from turmeric, black pepper, maca (an adaptogenic root), boswellia, ginger, cardamom, and cinnamon that adds a warm, spiced flavor to these macaroons and helps induce a feeling of balance and reduce inflammation. Let's dig in!
INGREDIENTS

METHOD

Preheat the oven to 350 degrees. Spread the pecans on a parchment lined baking sheet and place in the oven for 7-10 minutes, checking frequently in the last few minutes to make sure they are perfectly golden and fragrant but do not burn. Remove from the oven and set the pecans aside.
While the pecans are roasting, add all ingredients except the water to a mixing bowl and use a fork to combine. Add in the water and stir until a dough is formed.
Use a 1 tbsp sized cookie scoop to scoop out 12 balls of dough onto the parchment lined baking sheet. Top each cookie with 1 pecan and use your hands to press down and flatten slightly.
Transfer to the oven and bake for 15 minutes.
Enjoy!
Check out @jackfruitfulkitchen on Instagram for more fun recipes from Jackie.