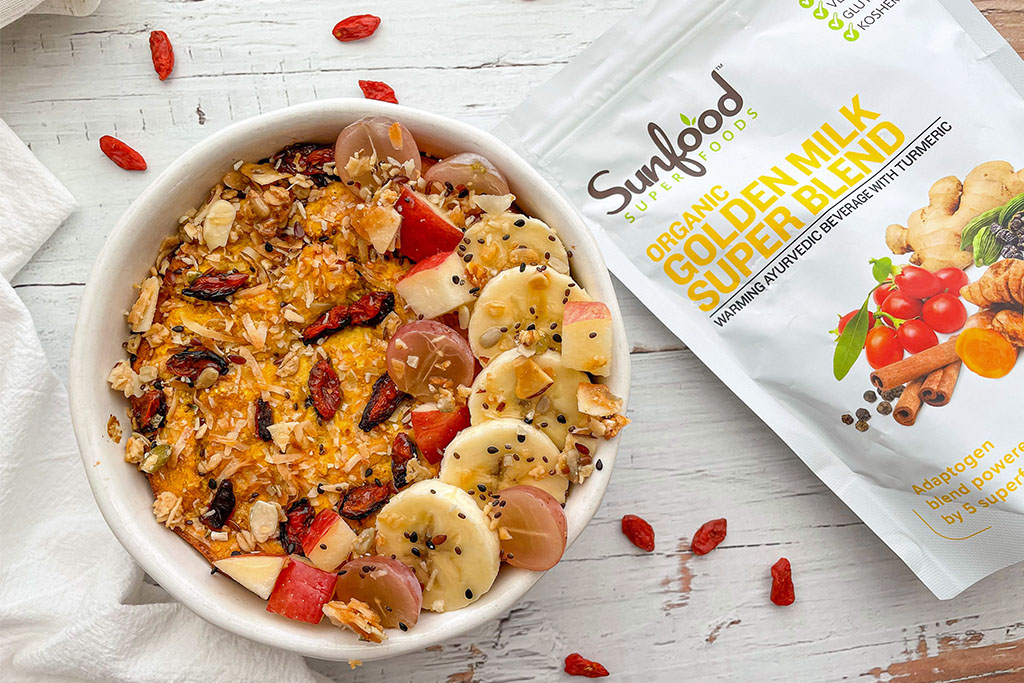 Fresh baked goods and autumn go hand-in-hand. That's why Grace from @gracefulloats' Golden Milk Baked Oats is the perfect superfood recipe for the season. Each bite will feel like a warm hug with the comforting flavors of ginger, cardamom, and cinnamon. Not only is this treat delicious, but it's loaded with superfoods and herbs that can induce a sense of balance. Cozy up in your flannel and enjoy this nutritious home-baked goodness.
Ingredients
1/2 cup rolled oats
1/2 tsp baking powder
1/4 tsp salt
1 tbsp Sunfood Golden Milk Super Blend
2/3 scoop plant-based vanilla protein powder
1/2 medium banana
1/2 cup cauliflower rice (optional)
1/2 cup coconut milk
2 tbsp Sunfood Goji Berries
2 tbsp shredded coconut
Method
Preheat oven to 400 degrees and generously grease an oven-safe bowl with cooking spray.
Add all ingredients except goji berries and coconut to a food processor or high-speed blender and pulse until smooth and well combined.
Spoon batter into prepared bowl and fold in goji berries and coconut.
Top with more berries and coconut and bake for 20-25 minutes.
Sprinkle with fresh fruit if desired. Enjoy!