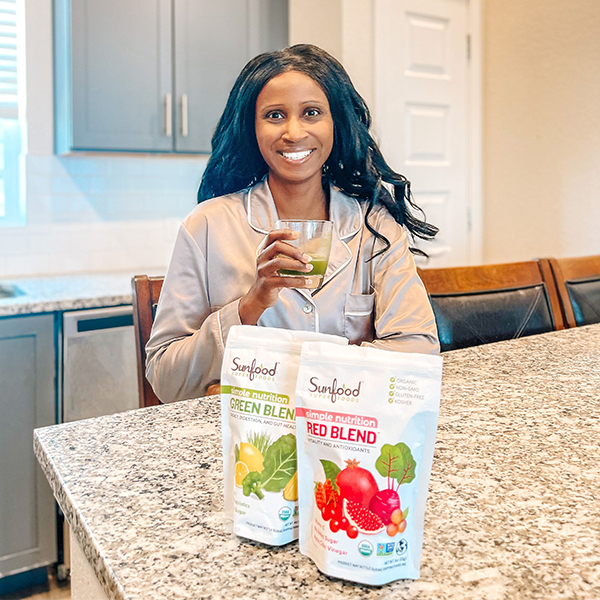 When she's not creating content or enjoying outdoor adventures with her kids, business owner and mom of four Kyana loves to hike, practice yoga, and ride her bike. She believes getting proper nutrition should be accessible to everyone. Sunfood has made nutrition super simple with our new Simple Nutrition Red Blend and Green Blend. Kyana from @blackadventuremom shared how superfoods make prioritizing her health really easy – and some advice for those just starting their wellness journey.
What role do superfoods play in your daily routine?
As a business owner and a mom of 4, superfoods give me the energy to thrive during the day. I have enough energy to be present for family and focused on my goals.
How important is nutrition to your overall health and wellness?
Nutrition is a top priority for me with my health and wellness goals. I can't reach my optimum health without ensuring I'm getting the proper nutrition every day. I feel better when I eat better, and when I feel better it's easier to exercise and have the right mental attitude to take care of other aspects of my health.
What activities do you love to do during the day that require a lot of energy?
I love doing yoga, hiking, and riding my bike. I also love playing hide and seek with my four young children. I also spend large parts of the day shooting and editing content. Most of my days are incredibly busy between my hobbies, work, and family. All of these activities require lots of energy.
Do you believe accessibility and simplicity is important when it comes to nutrition?
Nutrition has to be simple and accessible. My days are so busy, it would be hard for me to get the nutritional support I need every day if I didn't have superfoods. They help me ensure I'm getting what I need.
Tell us about your top 3 superfoods that fuel your active and busy lifestyle.
I love so many superfoods that it's hard to choose just one. I love Matcha Powder for added energy during the day. I also love Maca Powder for help with balancing my hormones. Green blends with ingredients like spinach powder and wheat grass help with energy and maintaining gut health.
What ONE benefit would you say you've received and valued most from proper nutrition?
The most amazing benefit that I just couldn't live without is energy. Overall, superfoods give me the energy I need to enjoy my busy and very fulfilling life.
Any advice or messages of encouragement for others struggling to find simple ways to ensure proper nutrition?
My advice to anyone struggling with nutrition is to start with taking one superfood a day and notice the benefits to your health and your life. After you experience the wonders of superfoods, you'll realize how much proper nutrition can positively impact your day to day life.
Follow Kyana and all her adventures on @blackadventuremom.
*These statements have not been evaluated by the Food & Drug Administration. This product is not intended to diagnose, treat, cure or prevent any disease.

Sunfood's "Natural Solutions" does not promote or suggest natural cures, natural healing or natural remedies for any disease, disorder or ailment thereof. This information should be treated as educational material gathered and discovered from various studies, clinical trials, and customer reviews. It is designed to encourage healthy lifestyles and independent conclusions in regard to natural products and alternative health choices. It is best to consult with your healthcare practitioner before attempting any form of natural cure, natural healing or natural remedy to any health issues.