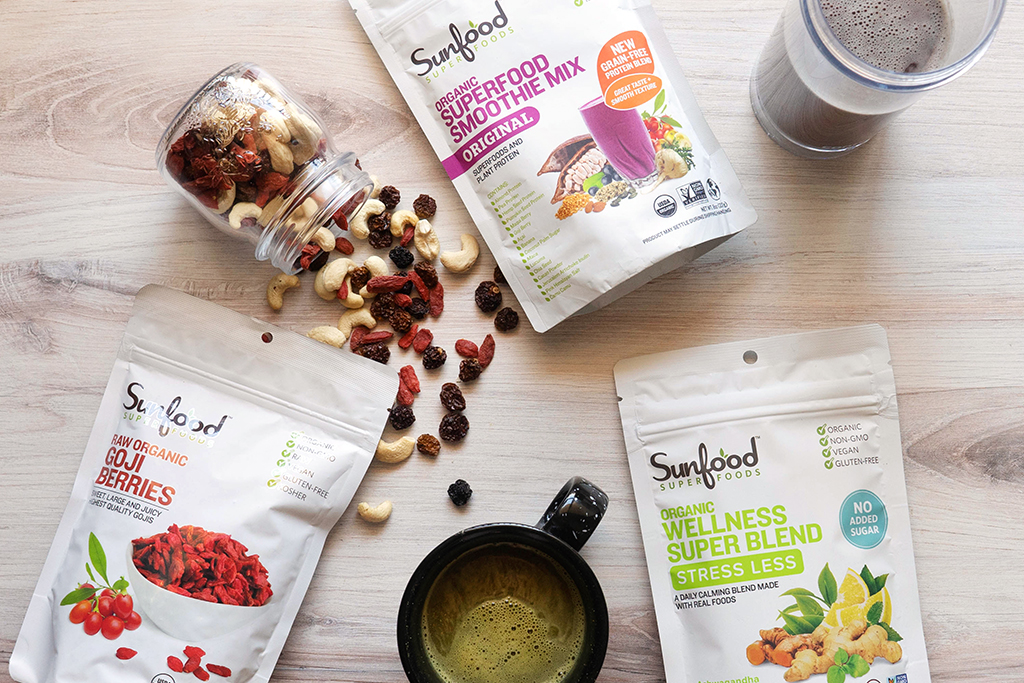 Summer means sandy feet, mosquito bites, crackling campfires, and sticky summer nights. It's the perfect season for an epic camping trip at a national park, by the beach, or even just pitching the tent in the backyard for a tent sleepover with the kids. Whether you're camping or glamping, here's how to power your camping trip with superfoods.
Don't forget the trail mix.
Is it even a camping trip if you don't bring trail mix? Sunfood's Berry Adventure is a nutrient-packed, flavor-bursting trail mix that will fuel all your camping adventures! This mix is a good source of vitamin A, magnesium, and copper, making it a healthy snack choice. Munch on some Berry Adventure in the morning for an energizing boost while you camp. Are you feeling creative? Make it your own by adding some Sweet Cacao Nibs, Macadamia Nuts, and Mango Slices for some extra tang.
Power your pewter mug with superfoods.
Get your morning going with a super easy-to-mix Matcha & Mushrooms latte. Matcha paired with the balancing maitake mushrooms can help tame cravings that come up while you're out there on the trail. Matcha & Mushrooms includes maca which can help provide an even energy release to get you through those groggy mornings climbing out of your tent and those post-hike slumps. Just whisk together a serving of the powder with water, heat it over the fire, and drink it from your pewter mug for a cozy and energizing drink.
Scoop, shake, and go.
Unless you're glamping in a luxurious RV, making a fresh smoothie in a blender isn't an option while you camp. But not to worry! Sunfood's Organic Superfood Smoothie Mix is just as delicious and nutritious, and all you have to do is shake it up. This mix includes a plant-based protein blend formula and the original 13 powerful superfoods to kick your energy into high gear. It's such an easy way to jumpstart or refresh your afternoon while you camp.
Don't sacrifice your skincare routine while you camp.
Without access to running water and limited space in your backpack, bringing all your favorite face washes, toners, lotions, and all the other products you use to keep your skin young is not realistic. But that doesn't mean your skin has to suffer! Just toss Sunfood's Day & Night Beauty Blends into your backpack to maintain your skincare while you camp. Day Beauty Blend GLOW will hydrate your skin and support your radiant glow from the inside out all day long. Night Beauty Blend RESTORE will help your skin restore while you're asleep. Just stir into water, and voila, you're done!
Relax under the stars after a long day outdoors.
After a long day of setting up gear, hiking, swimming, and flashlight tag curl up under the stars while sipping Wellness Super Blend Stress Less. We created this blend to help ease stress and promote a feeling of well-being. This balanced formulation delivers a sense of relaxation exactly when you need it. Ginger helps calm and soothe your gut. Ashwagandha and lemon balm help you relax and relieve tension in the body, while turmeric aids in balancing your inflammatory stress response. All you have to do is mix a serving of this powder with water and feel the stress melt away.
Shop the Story
---
Sunfood's "Natural Solutions" does not promote or suggest natural cures, natural healing or natural remedies for any disease, disorder or ailment thereof. This information should be treated as educational material gathered and discovered from various studies, clinical trials, and customer reviews. It is designed to encourage healthy lifestyles and independent conclusions in regard to natural products and alternative health choices. It is best to consult with your healthcare practitioner before attempting any form of natural cure, natural healing or natural remedy to any health issues.