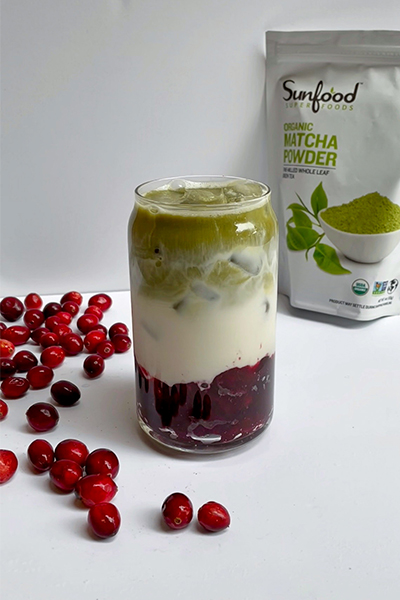 Ready for something fruity, festive, and oh-so delicious? May from @cafewithmay's creamy Iced Cranberry Matcha Latte is made with organic Sunfood Matcha Powder for that vibrant green color and superfood twist. It's the perfect drink whether it's winter and you're craving festive cranberry flavors or it's summer and you want a refreshing cool down. Bonus: It's plant-based and gluten-free. Here's how to make it!
Ingredients
1 cup cranberries
¼ cup sugar
¼ cup water
1 tbsp lemon juice
½ nut milk
1 tsp Sunfood Matcha Powder
Splash of hot water
Method
Mix cranberries, sugar, water, and lemon juice together on a stove at high heat until it becomes a paste. Let cool.
Whisk 1 tsp matcha powder with hot water until combined. Careful, it's hot!
Add cranberry puree to your favorite glass.
Add ice and pour nut milk (we used oat!) and matcha mixture into the glass.
Mix as desired and enjoy!
Recipe and photo credit: @cafewithmay