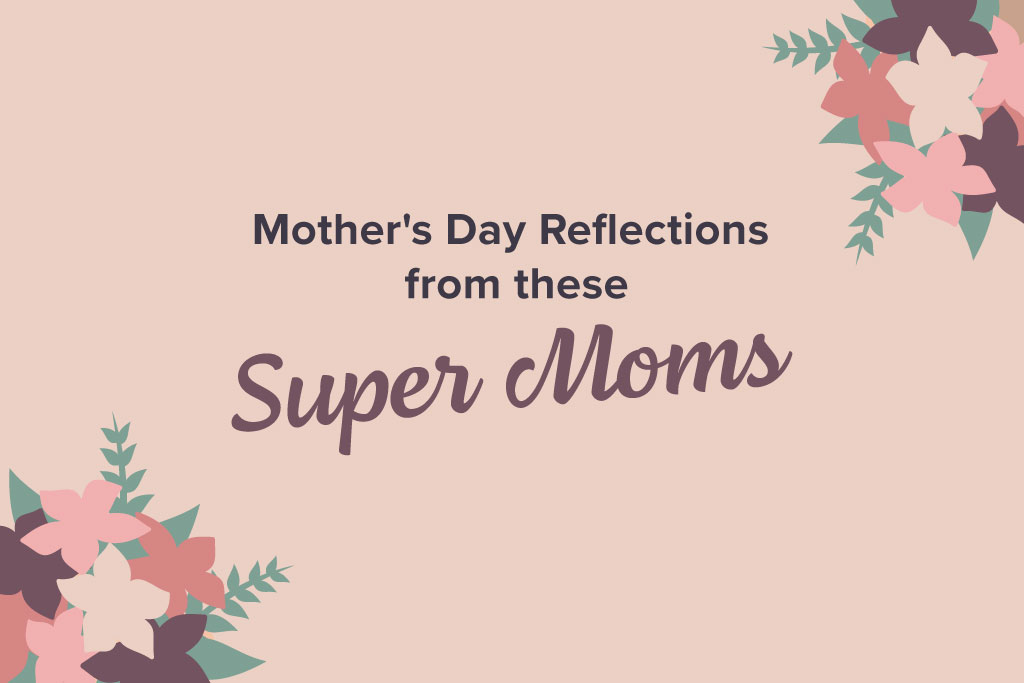 Roses are red, violets are blue, these moms love superfoods, and so should you!
All the flowers, chocolate, and candles in the world wouldn't be enough to show mothers how important they are. Every day we are inspired by moms who exemplify compassion, strength, kindness, and support. In honor of this Mother's Day, we wanted to spotlight super moms who are part of the Sunfood family – whether they are cherished employees or loyal creators in the community who we love working with. Each and every one of these moms inspires us to be strong yet soft, selfless yet still prioritize self-care, and to spread a little extra love and kindness into the world.
We asked these super moms about motherhood and their favorite Mother's Day memories. Their heartwarming answers will bring a smile to your face.
"My favorite Mother's Day Memory is when my we had three generations of Moms in our family get together and we had an amazing brunch with about 20 people!!

'There's no way to be a Perfect Mother and a million ways to be a good one!' – Jill Churchill"
"Every Mother's Day, my husband and four children make breakfast and we sit down and eat together while they give me their gifts, which are mostly handmade because they're so young.

I love watching how proud they are of what they've created to show me how they feel.

My advice to other moms and families is to find ways to experience joy together. When you have a child or children, life seems to move so fast, and we often feel like there are so many things we have to get done in each moment. However, our experiences together help us connect to each other. And the laughter, smiles, and fun we share now will one day become our most treasured memories."
"Last year was my favorite Mother's Day! I went for a run and my husband sent me a "podcast" to listen to during the last 5 minutes of my run. The podcast was my husband asking my kids questions about me, and their responses were so heartwarming. It was so special! As I finished up the podcast and was running along the path to our house, there were signs up every 20ft or so that the kids wrote one word on to say, "Happy Mother's Day! We Love You ♾". Then we went on a great hike together at a state park. It was my first Mother's Day as a mom of 3 (we waited many years to be blessed with our 3rd), so it was even more special.

I'm not a parenting expert, just a mom of 3 who still can't believe I'm in charge of these little humans. Some days I feel like a supermom, and other days I forgot about "crazy hair day", there's laundry all over the house, and I'm hiding in the bathroom so that I can talk on the phone to another adult. As much as the days are chaotic, I wouldn't trade it for anything. I love these kiddos with all my heart and feel grateful to see the world through their eyes. They remind me to slow down, to see the beauty in the weeds, to recognize that time spent together is worth more than an expensive toy. To all the mamas out there, in case you haven't heard it today, you're amazing. I hope you feel like the queen you are on Mother's Day, and everyday!"
| | |
| --- | --- |
| | "Hard to choose my favorite memory! Both of my 'first' Mother's Day celebrations with my daughters were so special, and I remember both so vividly even though we didn't do anything big. This Mother's Day will extra special celebrating all three of my kids (and knowing baby Jaxon Nakoa was our last!)" |
| | |
| --- | --- |
| | "My very first Mother's Day 5 years ago was definitely a special one. Not only was I celebrating Mother's Day as a mama for the first time, but my mother flew down to San Diego from Vancouver that weekend. It was so wonderful sharing my first Mother's Day with my mom, and celebrating her as well. We had a beautiful brunch overlooking the ocean in La Jolla to celebrate." |