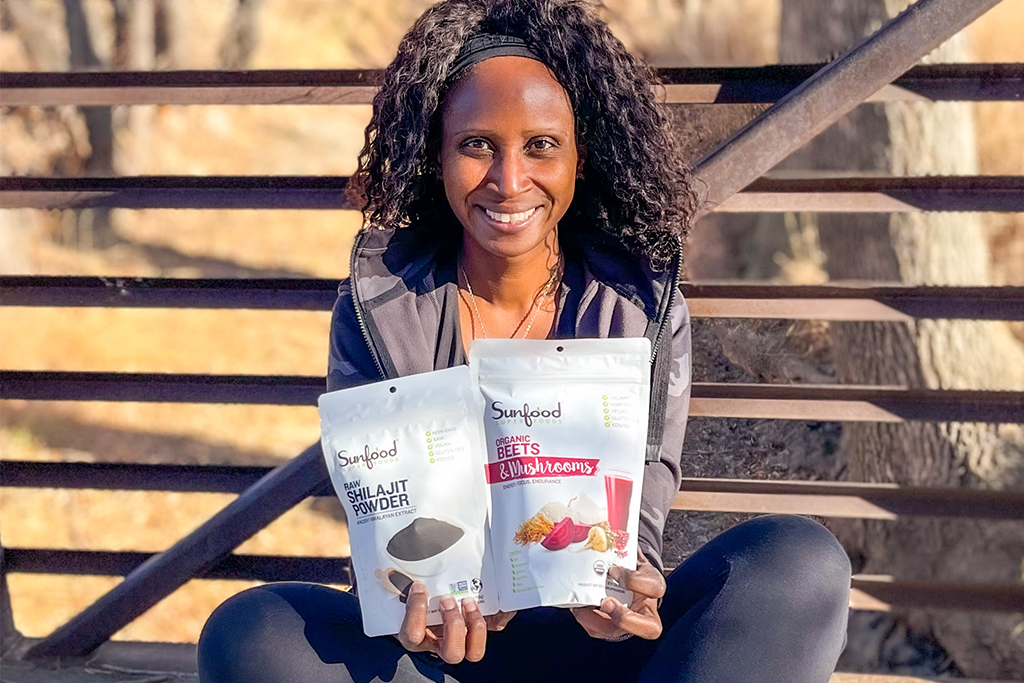 New year, new adventures – and new adventures call for extra energy! For busy super mom Kyana – who balances being a wife and mom of four kids, owning a business, and practicing self-care – superfoods are a quick, convenient, nutrient-dense solution to fueling daily adventures with her family.
Kyana from @blackadventuremom shared with us how Sunfood superfoods (like Beets & Mushrooms) keep her going and the importance of nourishing your body before embarking on the next big adventure. Whether it's hiking together in the Colorado wilderness, vacationing at the beach, or cooking new meals with the kids, find out how superfoods energize Kyana's New Year adventures.
"Sunfood gave me the vitality to bring more energy

and joy to every moment of my life." -Super Mom Kyana
When did you realize you needed superfoods?
I was becoming more and more busy as a wife, business owner, and a mom of four kids. I also had a hard time eating as healthy as I knew I should because I was always busy or trying to complete the huge list of tasks I needed to complete each day. That's when I knew superfoods could help me get the nutrition I needed in quick and convenient ways.
What was going on in your world that caused you to come looking for superfoods?
I started looking for superfoods because life was becoming more and more busy as I managed my family life and my career. I knew I needed high quality nutrition to balance stress and ease fatigue. I just wanted to feel better in my every-day life without a huge time commitment because I didn't want to add anything stressful to my already full plate. This is what made me research superfoods.
What ONE problem would you say Sunfood Superfoods eliminate or lessen for you?
Sunfood Superfoods has helped me in so many ways. The biggest problem it has solved for me is that I can thrive throughout the day without feeling tired and worn down. Even in the afternoon and evening, I have enough energy to spend time with my family and enjoy my hobbies when I'm not working. It feels like Sunfood gave me time, but I know the truth is Sunfood gave me the vitality to bring more energy and joy to every moment of my life.
What ONE benefit would you say you've gotten and valued most from using Sunfood Superfoods?



The one benefit I've gotten from Sunfood that I value the most is the ability to feel good even when I have a full plate. Life isn't going to slow down for me any time soon so it's nice to know I can feel well, energetic, and happy even though I'm really active in this season of life.

What 3 adjectives would you use to describe Sunfood Superfoods? How do you include superfoods in your diet?

The 3 adjectives I would use to describe Sunfood include, vibrant, energizing, and fulfilling.

I love to include superfoods in my smoothies and drinks. It's the easiest and tastiest way to enjoy them and consistently include them in my diet.
What are your top 3 favorite ways to practice self-care?
Self-care is so important to me. My favorite self-care methods are taking a hot bath with essential oils, hiking in beautiful scenery, and yoga.
What does a typical day in your life look like?
My typical day starts with journaling and meditation. I love to start the day with peace and setting an intention. The next thing I do is nourish my body with supplements, superfoods, and water. I love doing this early so that I don't have to wait long for the benefits to kick in. After that, I exercise for 30 minutes. I then ensure my kids have everything they need for our next day adventure. Then, it's time to work for a few hours. I love having dinner with my family. In the evening I respond to any emails I missed during the day. I wind down with a hot bath and a book, and soon after that it's lights out for me and the whole family.
Any advice or messages of encouragement for others
The sooner you start incorporating Sunfood superfoods into your diet on a regular basis, the sooner you'll start to feel better, more energetic, and joyful. All you have to do is start.
Photo credit: Kyana from @blackadventuremom
Kyana's Go-to Superfoods
Sunfood's "Natural Solutions" does not promote or suggest natural cures, natural healing or natural remedies for any disease, disorder or ailment thereof. This information should be treated as educational material gathered and discovered from various studies, clinical trials, and customer reviews. It is designed to encourage healthy lifestyles and independent conclusions in regard to natural products and alternative health choices. It is best to consult with your healthcare practitioner before attempting any form of natural cure, natural healing or natural remedy to any health issues.