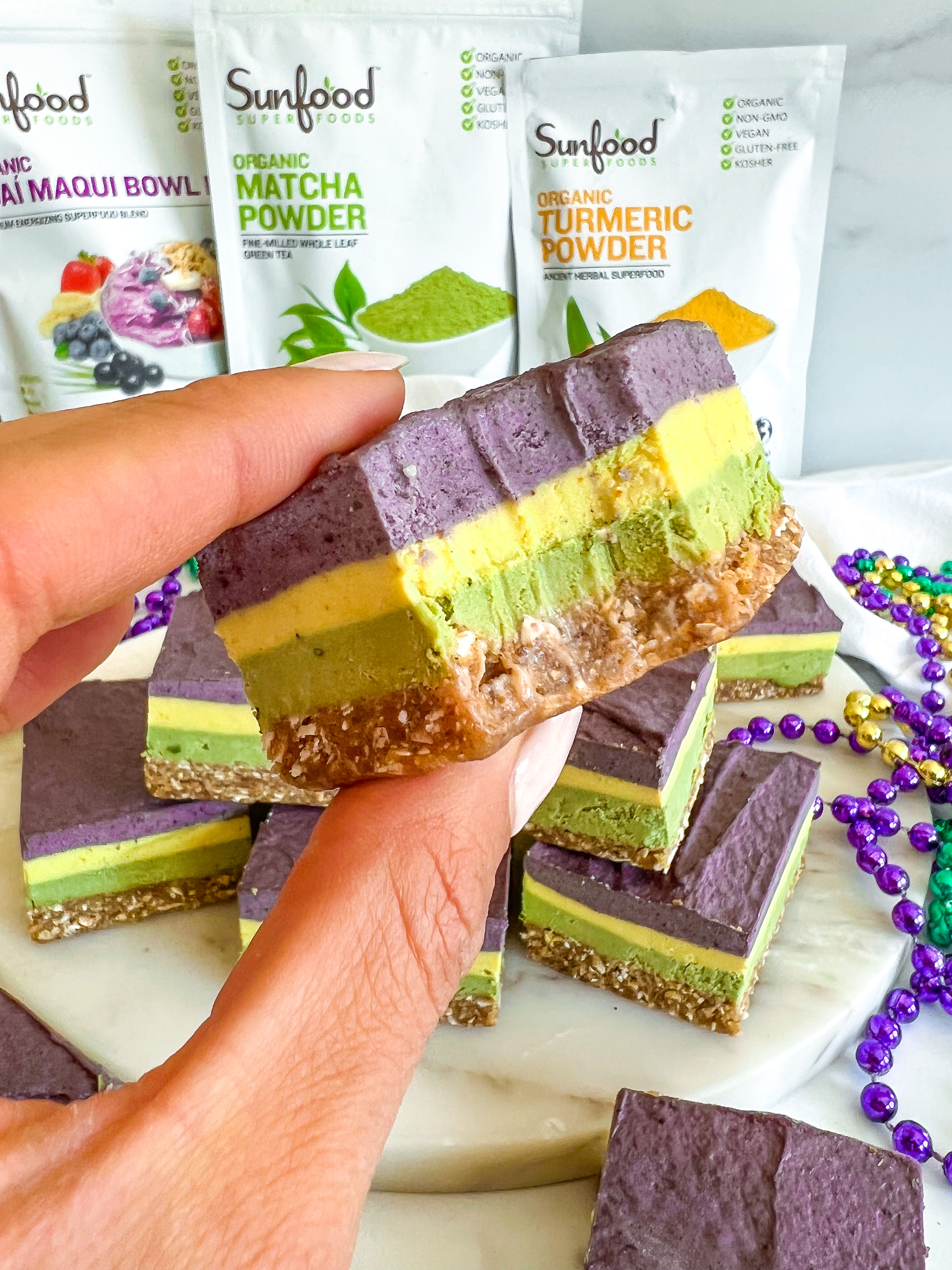 Happy Mardi Gras! Jackie from @jackfruitfulkitchen made a vegan, gluten-free, and wildly colorful recipe inspired by King Cake: delicious no-bake bars. The vibrant colors are made 100% from natural Sunfood superfoods and don't include any food dye. The purple layer is made with Sunfood Açaí Maqui Bowl Mix, the yellow with stellar Sunfood Turmeric Powder, and the green with Sunfood Matcha Powder—everyone's favorite superfood. Enjoy a healthier spin on traditional King Cake this Fat Tuesday or any day of the year. Laissez les bon temps rouler (let the good times roll)!
INGREDIENTS

CRUST

1 cup soft Medjool dates
1 cup pecans
1 1/2 cup oats
1 tbsp coconut oil
1-3 tbsp water
1/2 tsp cinnamon

FILLING

4 cup Sunfood Cashews, soaked in warm water for 2+ hours
1/2 cup canned coconut milk
1/3 cup coconut oil, melted
1/3 cup lemon juice
1/3 cup maple syrup
1 tbsp vanilla

COLORING

METHOD

Add all ingredients for crust except water to a food processor and mix until well combined.
Add water 1 tbsp at a time until a dough forms. Water needed will depend on how soft and moist your dates are!
Spread dough into a 8x8" parchment lined baking pan and use a spatula to flatten. Place in the fridge.
Add all ingredients for filling to a food processor or high speed blender. Purée for 2-3 minutes until super smooth and creamy.
Divide filling evenly between 3 bowls. Mix each color into each one of the bowls and mix well to combine.
Pour the green matcha filling into the pan and spread evenly across the crust. Tap the pan on the counter to remove bubbles and even out. Place in the freezer for 1 hour. Repeat with remaining 2 colors and freeze for at least 4 hours or overnight.
Slice and serve chilled!
Check out @jackfruitfulkitchen on Instagram for more fun recipes from Jackie.