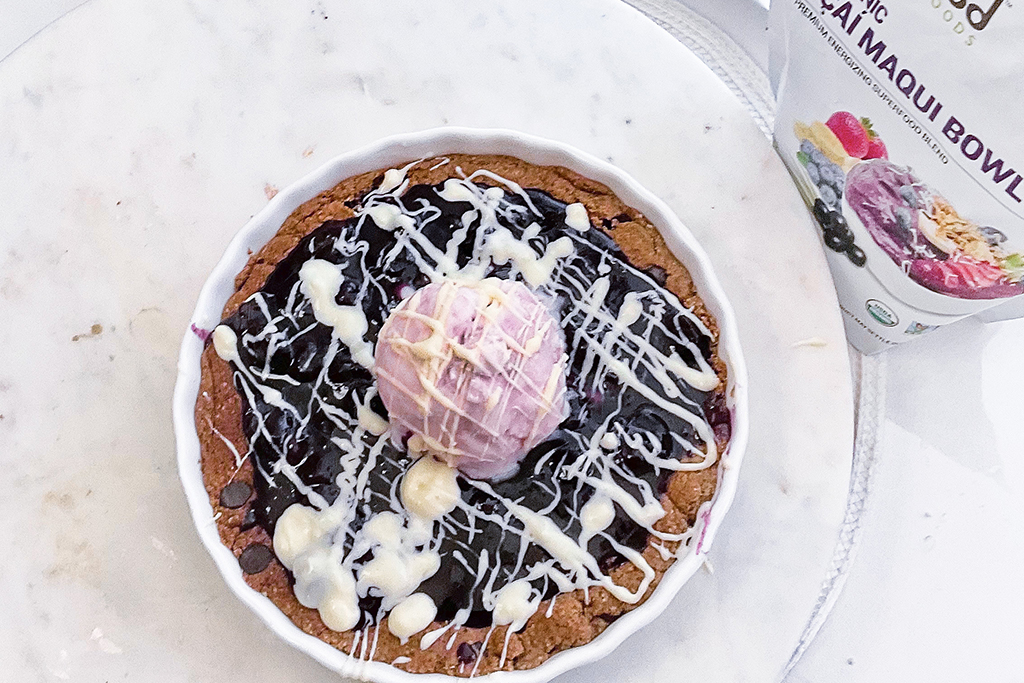 Is there anything better than cookies and ice cream? How about one big cookie topped with ice cream all to yourself (or to share, we won't judge)? Ariana from @feed_happiness_ created a Blueberry Açaí Cookie that is sweet, comforting, and plant-based. Sunfood's Açaí Maqui Bowl Mix's gives this delectable dessert a juicy, fruity flare and that extra boost of nutrition that you don't normally find in your ordinary cookie! Ready to dive in? Here's how to make it.
INGREDIENTS

COOKIE:

BLUEBERRY COMPOTE:

METHOD

In a large mixing bowl combine sugar, milk, melted coconut oil, vanilla extract, and flax meal.
Next add in the oat and almond flour. Stir together and add in the salt, baking soda, acai maqui bowl mix, chopped almonds, and chocolate chip.
Preheat oven to 350 F and pour cookie dough into a skillet pan or circular baking dish. Bake about 20-25 minutes or until cooked through completely
While baking prepare the blueberry compote. Add all ingredients to a small sauce and cook on medium heat until blueberry are soft and sauce has formed. This takes about 10 minutes.
Once baked remove from oven and top with homemade blueberry açaí compote, caramelized almonds, and a scoop of your favorite dairy free ice cream.
Enjoy!
Check out @feed_happiness_on Instagram for more fun recipes from Ariana.