Making a small change with a big impact to your wellness routine just got super simple.
Have you ever wanted to zhush up your routine to include healthier choices, but aren't sure where to start? Trust us, you're not alone. Hardcore commitments like juicing, switching to specialty diets or fasting can be daunting, especially if you're just starting on your health & wellness journey. Wouldn't it be awesome if you could make one or two small changes to your daily routine that helps push you in the right direction? WE'VE GOT YOU.
Introducing Sunfood's newest line - Simple Nutrition! These two powerhouse blends are made from real food ingredients that have been ethically sourced from our favorite superfoods, crafted into delicious, ready to drink preparations that you can incorporate easily into your day. It's as easy as mixing into water, adding to your protein shake for a superfood kick, or adding to sparking water for a buzz-free mocktail. (Staff pro tip: These blends also make a fabulous base to create a better-for-you cocktail...)
Did we mention that our Simple Nutrition line is free from added sugars, and full of sustainable and scrumptious ingredients that everyone knows - even the most novice superfoodie. Don't worry, we didn't cut corners to achieve the best tasting blends out there. Seriously, these will fool the toughest critics, just ask our Sunfood kids!
What's Inside?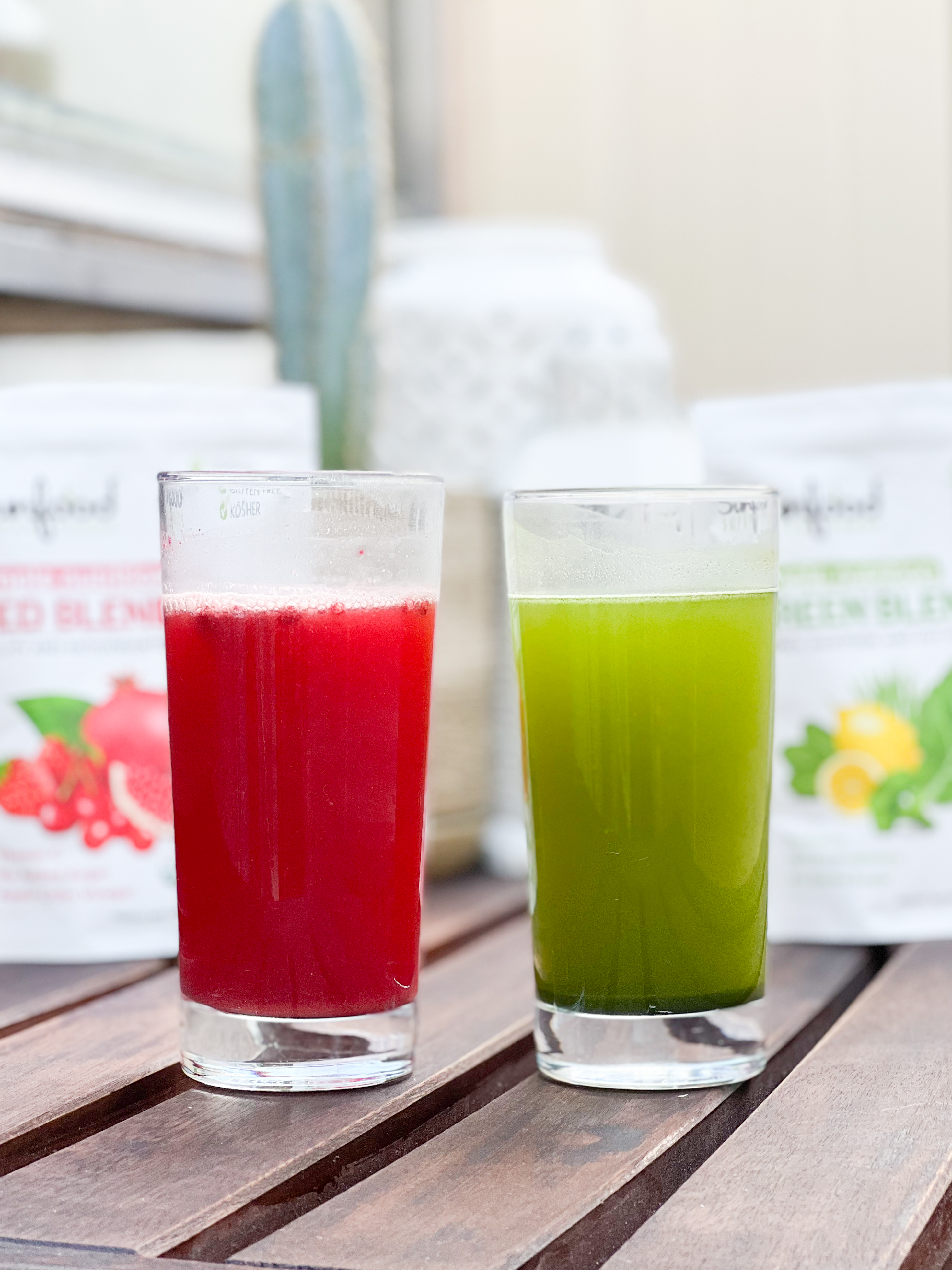 Red Blend is full of nutrient rich strawberries, cherries, pomegranate and beet with a superboost of vitamin-C packed Camu Camu and belly-friendly apple cider vinegar.
Deemed a new staff favorite, Red Blend is perfect for smaller picky eaters, jet-setters, pup-walkers and everything in between.
Green Blend is packed with fan-favorites like spinach, kale, broccoli, pineapple and lemon with an added probiotic punch and energizing boost from Jerusalem artichoke.
We couldn't forget barley and wheatgrass, but please, put down that shotglass... We prefer to actually enjoy getting these essential super-grasses down! If you, like many, can't stomach the thought of drinking your greens, this is the perfect solution for you, add it to a sparkling lemon water for a luxurious treat.
Just mix with water and simplify your nutrition journey.
*These statements have not been evaluated by the Food & Drug Administration. This product is not intended to diagnose, treat, cure or prevent any disease.
Sunfood's "Natural Solutions" does not promote or suggest natural cures, natural healing or natural remedies for any disease, disorder or ailment thereof. This information should be treated as educational material gathered and discovered from various studies, clinical trials, and customer reviews. It is designed to encourage healthy lifestyles and independent conclusions in regard to natural products and alternative health choices. It is best to consult with your healthcare practitioner before attempting any form of natural cure, natural healing or natural remedy to any health issues.