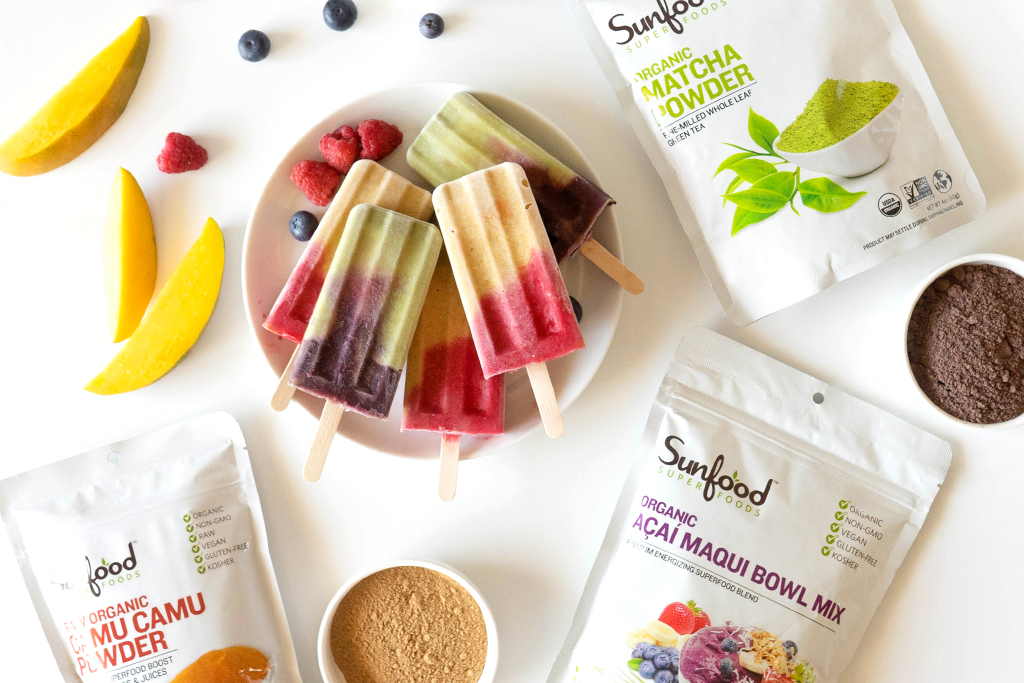 Superfoods + fresh fruit = the perfect summer refresher. Pop it in the freezer, and you've got yourself a batch of delicious popsicles. Never made them at home? They are super easy to whip up and a delight to enjoy on a hot summer day.
This recipe uses tangy Camu Camu Powder with fresh mango delivering a delicious dose of vitamin C. Açaí Maqui Bowl Mix adds seven potent superfoods to the popsicles and a beautiful deep purple color. To get that lovely green color and no-jitters energy, we used Matcha Powder. This one-of-a-kind combination of superfoods will keep you energized and satisfied even on the hottest day.
INGREDIENTS

Pop 1: Mango Camu Camu Raspberry
Mango Camu Camu layer:
Raspberry layer:
Pop 2: Matcha Acai Blueberry
Matcha layer:
Acai Blueberry layer:


METHOD

Blend ingredients of Mango Camu Camu layer together in a blender or food processor until smooth and creamy.
Pour into mold and repeat with Raspberry layer.
Add popsicle sticks and freeze overnight.
Once set, you can pour warm water over the molds to gently release the pops.
Repeat steps 1-4 with Matcha layer and Acai Blueberry layer and enjoy!