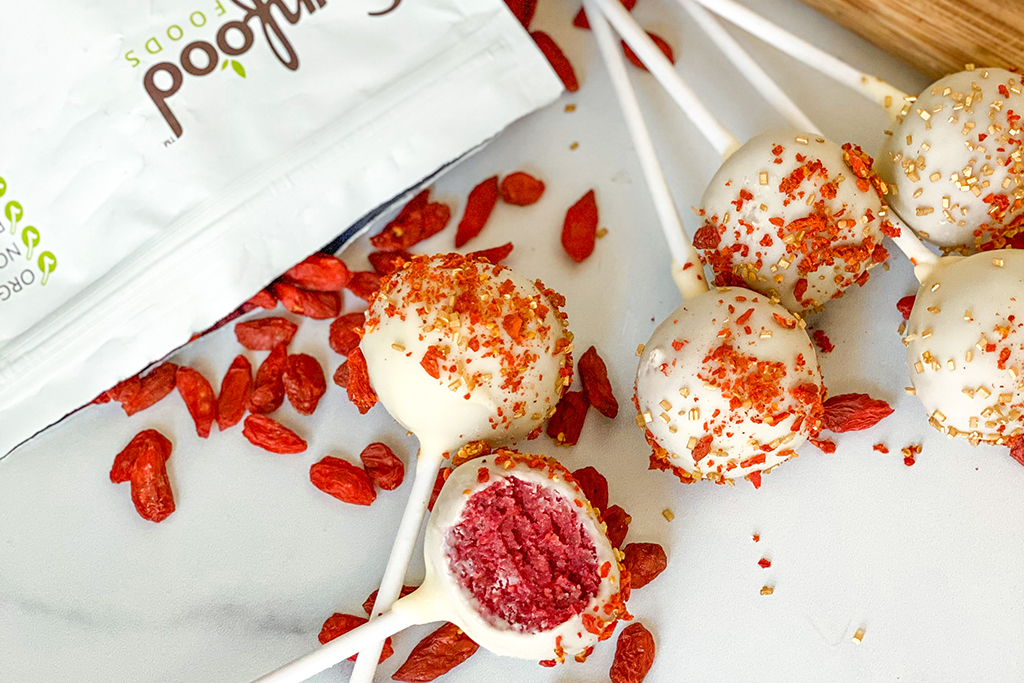 Who needs roses when you have cake pops? Jackie from @jackfruitfulkitchen's gluten-free and totally vegan Red Velvet Cake Pops make a beautiful and delicious bouquet. Packed with superfoods including Sunfood Beet Powder, which gives these bite-sized delights their gorgeous color, this recipe is not like the other Valentine's Day recipes out there. Did we mention they're no-bake? Run—don't walk—to the kitchen to make these ASAP.
INGREDIENTS

METHOD

Mix flours, beet powder, flax seed, and salt in a bowl.
Add in extracts, maple syrup and water. Mix until a dough forms. It should stick together but not be too wet. Add 1 tbsp water if it is too dry, or 1 tbsp oat flour if it is too wet.
Roll into 16 balls and place on a parchment lined tray.
Microwave white chocolate and coconut oil on 50% power in 30 second increments until melted.
Dip each cake pop stick into a tiny bit of melted chocolate and insert halfway into each cake pop. Place in the fridge for 10 minutes to "set".
Dip each cake ball into the melted chocolate to coat - do NOT twist. Once coated, tap gently for 15-20 seconds to let excess chocolate drip off.
Sprinkle with goji berries and sprinkles. Stand up in a cake pop stand or insert into piece of styrofoam. (If you do not have stand/styrofoam, you can stand them up the opposite way, but they will have flat bottoms!
Place in the fridge to set for at least 30 minutes, and store in fridge until serving.
Check out @jackfruitfulkitchen for more fun recipes from Jackie.