Between packing lunches, homeschooling, driving from soccer practice to piano lessons, and making sure all the kiddos are fed and happy, it's easy for moms to neglect one crucial part – self-care!

All the moms who exemplify compassion, strength, kindness, and support deserve to radiate joy and look radiant from the inside out. We made our new Day and Night Beauty Blends precisely to help the skin look and feel its best - it's so easy for moms to incorporate these yummy blends into their busy routines. 
Today we're highlighting one super mom who is deeply committed to her family, juggles work, responsibilities, quality time with her daughters and husband. She uses superfoods daily to keep her energized and refreshed for what the next day has in store. We talked to Paola from @ohsothymely about motherhood and how Sunfood's Day Beauty Blend GLOW and Night Beauty Blend RESTORE play a part in her busy life.
Q: What does being a mom mean to you?
Paola: Being a mom has been the greatest blessing. My heart is so full of love for my family. Seeing my daughters smile and hearing their giggles brings me more joy than I ever thought possible.
Q: How do you include superfoods in your diet?
Paola: Things get busy at home, so making smoothies is the easiest way to get my superfoods in. I love a good smoothie in the morning, with some Sunfood powders for an extra superfood boost. I also love putting a scoop of Sunfood powders in my shaker cup with some ice water and shaking it up for a quick afternoon boost.
Q: What value do you get out of superfoods?
Paola: When I incorporate superfoods into my diet, my energy levels increase. I need all the energy I can get with my busy girls. More energy also helps to improve my mood. I also notice that increasing my superfood intake improves the appearance of my skin.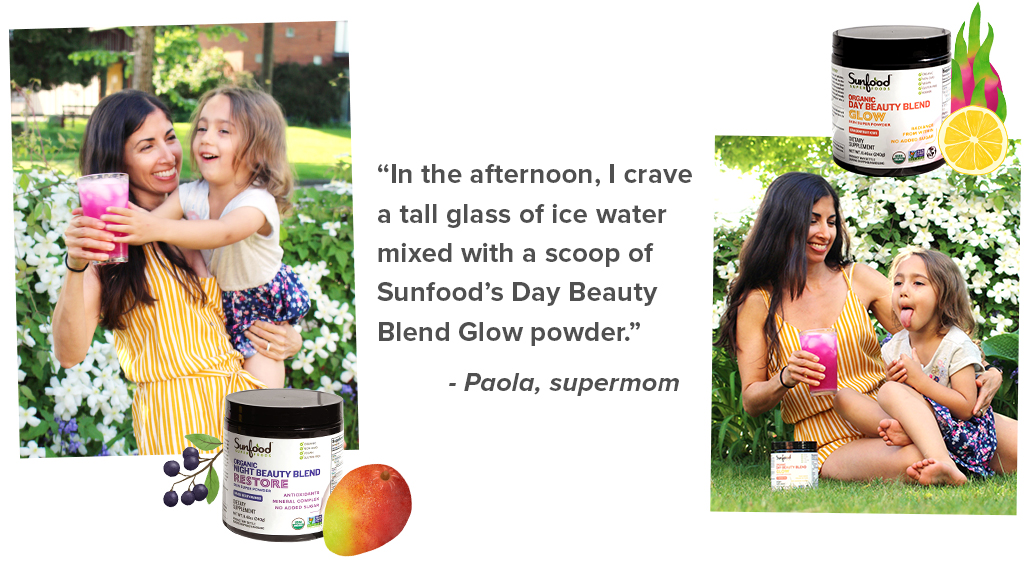 Q: What does a typical day in your life look like?
Paola: Now that I'm back at work part-time and my oldest daughter is in preschool three days a week, things have gotten much busier in our home. Our mornings start early with a healthy breakfast for the girls. They love avocado toast and some fresh fruit. I need my coffee and a superfood smoothie. I toss a scoop of Sunfood's Organic Wellness Super Blend in with some almond milk and frozen fruit for a quick, healthy breakfast before heading to work. The Wellness Blend is made with real food and is loaded with vitamins C and D, which are great for the immune system. 
In the afternoon, I crave a tall glass of ice water mixed with a scoop of Sunfood's Day Beauty Blend Glow powder. It is so hydrating and delivers antioxidants for collagen production. It tastes so delicious and can be mixed anywhere. I can't wait to get home after work to spend time with my girls and my husband. We spend most of our afternoon outdoors, either on bike rides, at the playground, or going for walks. 
After dinner and our bedtime routine, I like to wind down with some quality time with my husband and a glass of ice water mixed with Sunfood's Organic Night Beauty Blend Restore. This blend helps restore skin cells while we sleep! It also delivers antioxidants for collagen production and is an excellent source of vitamin C. 
Q: Any advice or messages of encouragement for all the moms out there?
Paola: You are all superheroes, and your kids are so lucky to have you. Your love, your time, and your attention are the best gifts you can give your children. Enjoy every moment because they do grow up way too quickly.
Treat the super mamas in your life to the radiance they deserve with Sunfood's new Day & Night Beauty Blends.
Paola's Go-to Superfoods

Sunfood's "Natural Solutions" does not promote or suggest natural cures, natural healing or natural remedies for any disease, disorder or ailment thereof. This information should be treated as educational material gathered and discovered from various studies, clinical trials, and customer reviews. It is designed to encourage healthy lifestyles and independent conclusions in regard to natural products and alternative health choices. It is best to consult with your healthcare practitioner before attempting any form of natural cure, natural healing or natural remedy to any health issues.