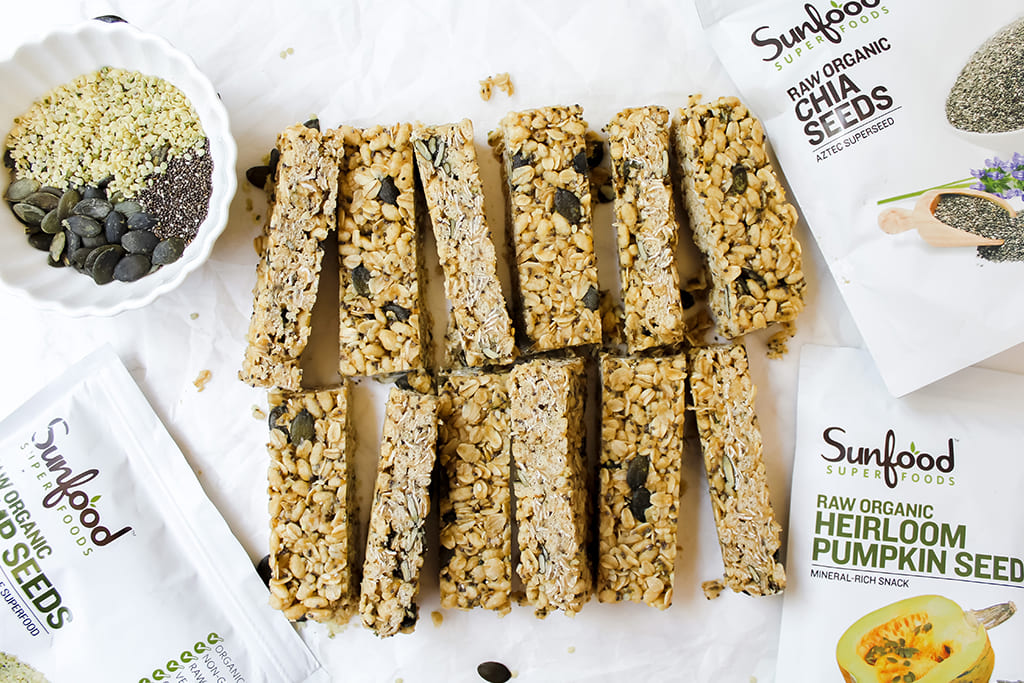 Back to school or back to work – we got THE crunchy, seedy delicious snack for you. And kids love them! Valeria of Nuts About Greens ' no-bake super seedy granola bars are perfect to bring to work, eat as a snack, or pack in school lunches. They are vegan, gluten-free, and nut-free so they are totally allergy-friendly. Made with Sunfood Chia Seeds, Hemp Seeds, and Pumpkin Seeds they're got the perfect crunch, chewiness, and subtle sweetness to keep you satisfied. Homemade granola bars are also super easy and really impressive, so what are you waiting for?! Make these today!
INGREDIENTS

METHOD

Line an 8x8 baking pan with parchment paper and set aside.
In a large bowl, stir oats, rice cereal, chia seeds, flaxseeds, hemp seeds, sesame seeds, and pumpkin seeds. Set aside.
In a small sauce pan, add coconut oil, tahini, and maple. Heat over medium low until melted and smooth. Remove from heat and add vanilla and salt. Stir until combined.
Add to the large bowl with the dry ingredients. Using a spatula, stir until everything is evenly coated and combined.
Transfer to the lined pan. Firmly press the mixture down with the spatula.
Freeze for 1-2 hours before cutting them into 12 bars.
Store in an airtight container in the freezer. You can let them sit for 5 minutes after you take them out of the freezer before eating. Enjoy!
Check out https://nutsaboutgreens.com/ for more plant-based recipes from Valeria.