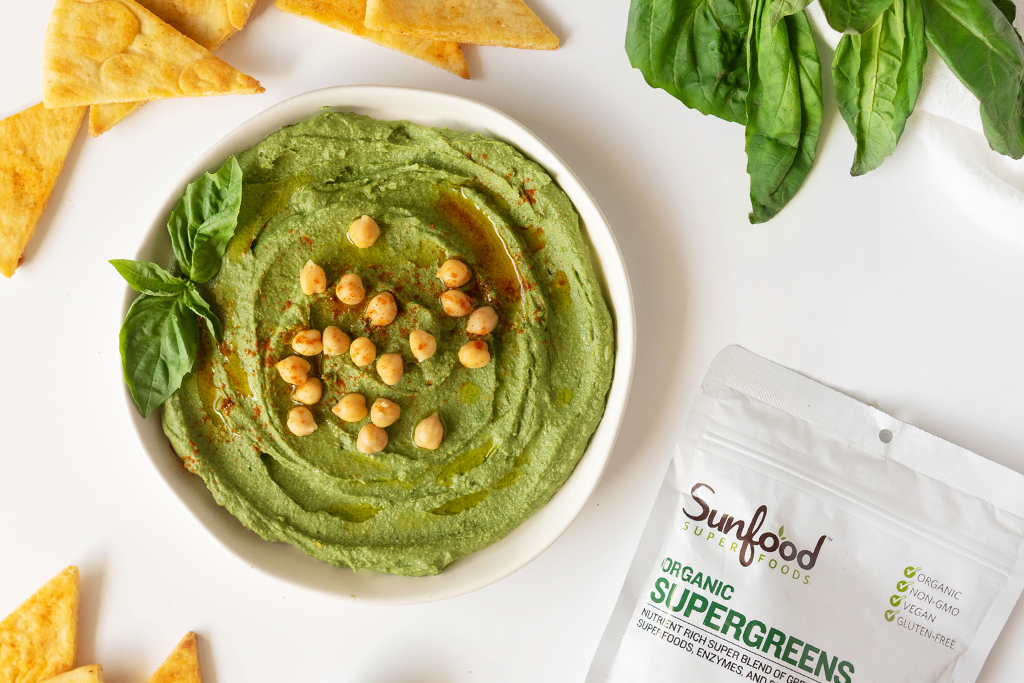 Our favorite way to get our greens in is with a side of chips. This dip is full of vibrant flavor from fresh basil and lemon juice, with the nutritional yeast and Sunfood Supergreens adding a savory flavor and an impressive nutritional profile. The chickpea base provides some plant-based protein. It's the perfect appetizer!
Ingredients
HUMMUS
1 cup Sunfood Cashews, soaked
1 tbsp Sunfood Supergreens
1 14-ounce can of chickpeas, drained and rinsed
1 cup fresh basil leaves
3 tbsp nutritional yeast
1/4 – 1/2 cup olive oil
1 tsp sea salt
3–4 garlic cloves
Juice from 1 lemon
PITA CHIPS
6 pieces of pita bread
1 tbsp olive oil
A generous pinch of each: sea salt, pepper, oregano, thyme, and red pepper flakes
Method
HUMMUS
Combine all the pesto hummus ingredients except olive oil in a food processor and blend on high until smooth.
Add olive oil and pulse until incorporated. Taste and season with extra sea salt, if needed.
Top with garnishes like roasted pine nuts, olive oil drizzle, or fresh basil leaves.
Serve immediately or keep covered in your fridge for up to 5 days.
PITA CHIPS
Preheat the oven to 350 degrees.
Cut the pita into triangles and tear them apart so that they are a single layer, instead of two triangles held together by the top seam.
Toss with olive oil and spices. Bake in a single layer on a baking sheet for 10-12 minutes, turning halfway. Enjoy!