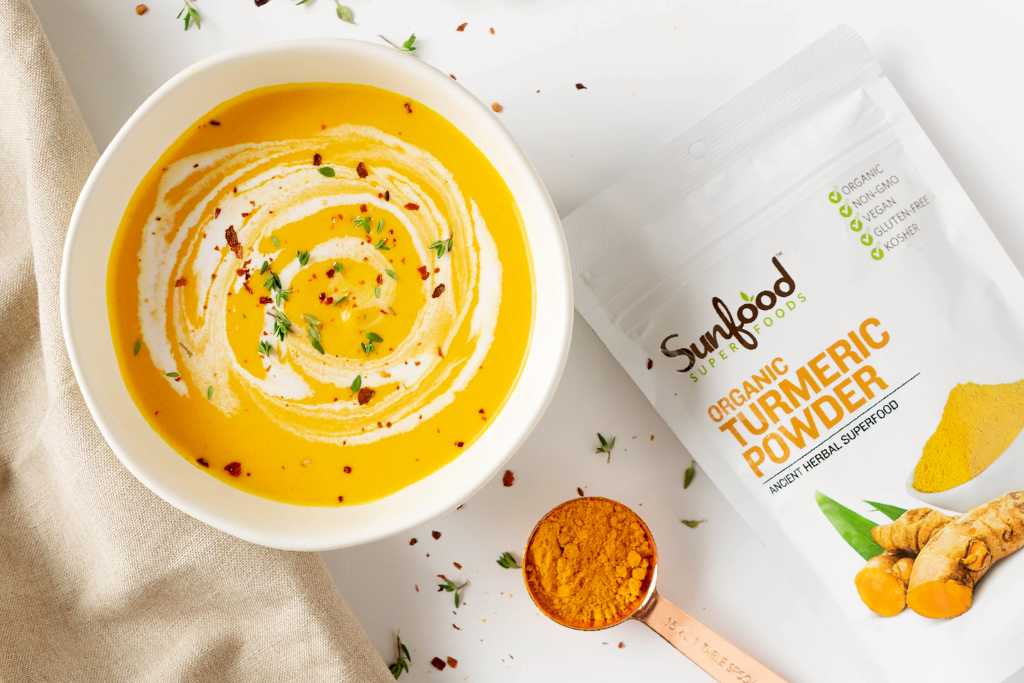 Rejoice! Soup season is back. This warming Turmeric Ginger Carrot Soup is the equivalent of putting on a pair of fuzzy socks. It's made with turmeric, is plant-based, silky, and comforting more than any store-bought canned soup. It's nutrient-dense, easy to make, and the perfect cold-weather meal.
Ingredients
1-2 tsp Sunfood Turmeric Powder
3 carrots
1 white onion
3 cloves garlic minced
1 inch piece of fresh ginger, finely grated
3 cups vegetable broth
1 cup canned coconut milk
1 tbsp lemon juice
1/8 tsp of Sunfood Black Seeds
Method
Roughly dice the onion and carrot into small chunks and grate the ginger.
Heat a small amount of olive oil in the bottom of a large stockpot and sauté the onion and carrot for 3 minutes until onion is translucent.
Then add the minced garlic, turmeric powder, and ginger and sauté for another few minutes.
Pour in the vegetable stock and coconut milk and simmer for 20-25 minutes until the carrot is cooked through and soft.
Use a stick blender (or transfer mixture into a standing blender) and blend until smooth.
Stir in the lemon juice, then serve with garnishes like a swirl of coconut milk, sliced green onion, or Sunfood Black Seeds.