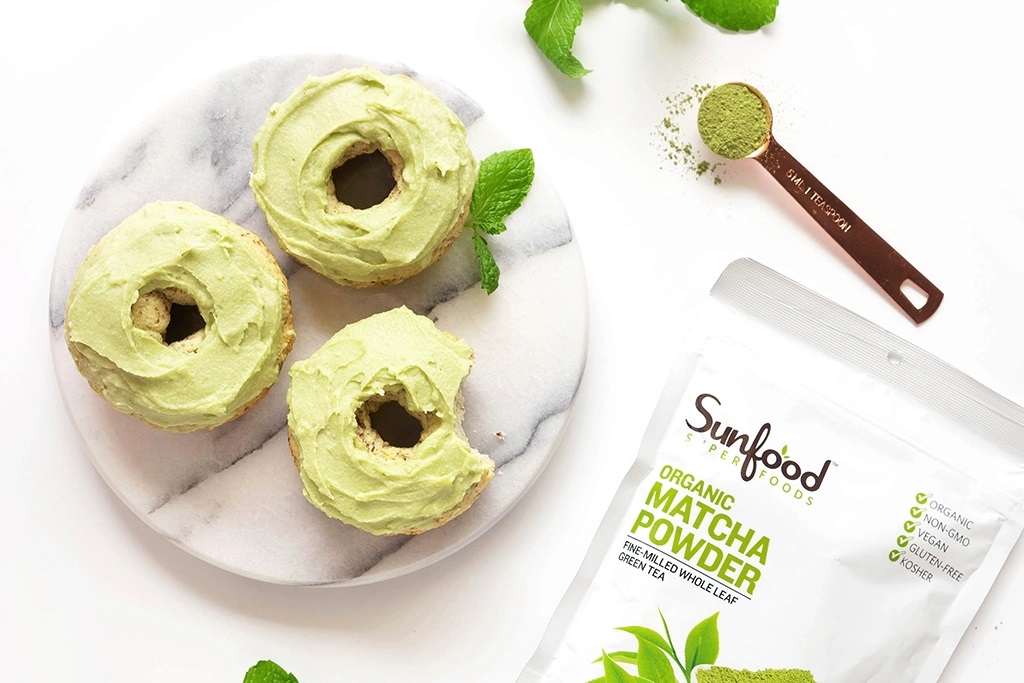 Matcha tea powder is one of our favorite superfoods to use in cooking.
Matcha powder is made from ground green tea leaves are grown in the shade, which created that mesmerizing green color. It lends itself well to treats like cookies, tarts, cakes, and even croissants, as well as smoothies and refreshing beverages. We love its beautiful bright hue and subtle green tea flavor. Sunfood Matcha Powder is pure organic matcha.
Matcha powder adds the most beautiful color to desserts.
Did someone say Matcha Donuts? These are as beautiful as they are mesmerizing and delicious. Matcha has that effect on every dish. Not only does it make for a beautiful frosting, but we also love the benefits of no-jitters energy of this green superfood to go along with the healthy-ish baked donuts.
Vanilla Donuts with Matcha Peppermint Superfood Frosting (Plant-based)
INGREDIENTS
VANILLA DONUTS:
2 Cups gluten-free all-purpose flour
1/2 C coconut palm sugar
1/2 tsp nutmeg
2 tsp baking powder
1 tsp salt
1/2 C almond milk
2 flax eggs (2 tbsp ground flax seed + 6 tbsp water)
1 tsp vanilla extract
6 Tbsp coconut oil
MATCHA PEPPERMINT SUPERFOOD FROSTING:
¼ cup + 2 tbsp melted coconut butter
2 heaped tbsp coconut cream (from the can)
1-2 tbsp sweetener of choice
1/8 tsp vanilla extract
2 tbsp cashew milk
1 tsp matcha powder
1/4 tsp peppermint extract
INSTRUCTIONS
VANILLA DONUTS:
Preheat oven to 350°F. Spray donut pan with non-stick spray, set aside.
Combine flax seed and water in a bowl and set aside to firm up.
In a large bowl, combine flour, sugar, nutmeg, baking powder, and salt.
In a small bowl, add almond milk, vanilla extract, coconut oil, and your firm flax egg, and mix.
Pour wet ingredients into the dry mixture and mix until just combined.
Pour batter into a large gallon bag (or bakery bag) and snip a corner about 1/2″ across. Pipe batter evenly into the prepared donut pan.
Bake on middle rack for 8-10 minutes. Remove and let cool on wire rack before frosting.
MATCHA PEPPERMINT SUPERFOOD FROSTING:
Mix all ingredients together until smooth.
Frost the cooled donuts and top with golden berries, pomegranate seeds, or sprinkles.