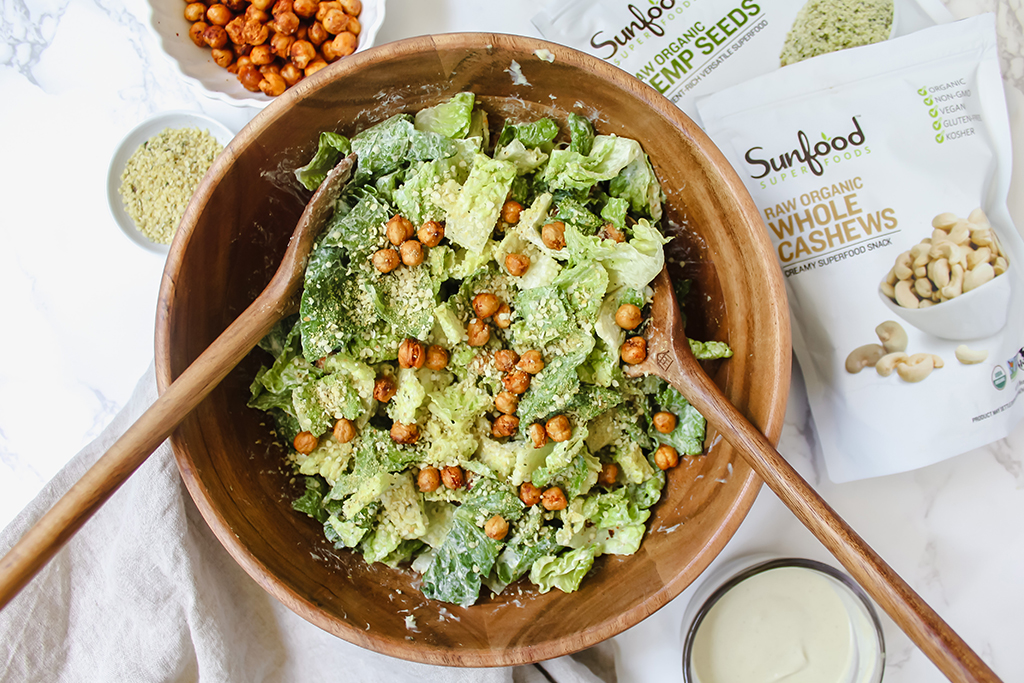 Hail Caesar! Vegan Caesar Salad with Hemp Parmesan, that is. Valeria of Nuts About Greens just knocked all other Caesar salads out of the park with her superfood-packed recipe. The crispy chickpeas. The creamy cashew dressing. The homemade hemp parm. Get ready to be blown away. Serve this crispy and filling crowd-pleaser at your next summer pot luck, as a healthy lunch option for the kids, or grab a giant fork and eat a big bowl to yourself while binge-watching your favorite show. Here's how to make it!
INGREDIENTS

Dressing


1 cup Sunfood Cashews, soaked overnight
3-4 Tbsp lemon juice
2 cloves garlic
2 Tbsp nutritional yeast
2 tsp miso
1 Tbsp capers
1 Tbsp caper brine (from the jar)
2 tsp Dijon mustard
3/4 cup water
1/2 tsp black pepper

Hemp Seed Parmesan


1/2 cup Sunfood Hemp Seeds
2 Tbsp nutritional yeast
1/2 tsp salt
1/4 tsp garlic powder
1/4 tsp onion powder

Crispy Chickpeas


1/4 tsp garlic powder
1/4 tsp onion powder
1/4 tsp smoked paprika
1 Tbsp avocado oil

METHOD

Drain, rinse, and pat chickpeas dry with a paper towel. (The drier they are, the crispier they get.)
Add chickpeas and the rest of the ingredients. Stir until well combined.
Air fry at 400 degrees F for 15-18 minutes, shaking pan half way through. It is done when it is golden brown. You can bake it in the oven at 400 degrees F for 30-35 minutes, shaking the pan every 10-15 minutes. Let it cool completely.
Add all the dressing ingredients to high-speed blender. Blend until smooth and creamy. Adjust water and seasonings if desired.
Add all hemp seed parmesan ingredients to food processor. Pulse until crumbles form. Place in a jar and keep in the fridge.
Assemble salad by adding romaine lettuce, crispy chickpeas, and a generous sprinkle of hemp parm to a large bowl. Pour desired amount of dressing over it and toss until everything is evenly coated.
Enjoy! Store leftover dressing in a jar in the fridge.
Check out https://nutsaboutgreens.com/ for more plant-based recipes from Valeria.