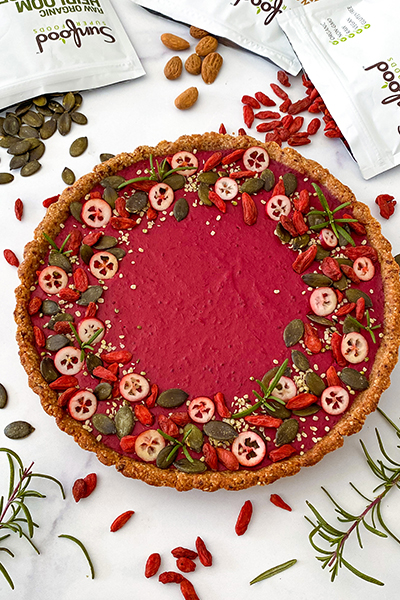 Orange you glad it's dessert season? Jackie from @jackfruitfulkitchen's Vegan Cranberry Orange Holiday Tart is going to make you wish cranberries were in season all year long. With a unique combination of earthy, sweet, and citrusy flavors, this really is the holiday tart of your dreams. Our nutrient-rich Beet Powder lends a gorgeous color to this festive fruity dessert and gives it that extra superfood kick. What are you waiting for? Make Jackie's superfood-packed recipe and get ready to wow your family and friends.
Ingredients
CRUST
3/4 C Sunfood Almonds
3/4 C Sunfood Cashews
1 C gluten-free rolled oats
1/2 tsp salt
1 C soft pitted medjool dates
1 TBSP coconut oil
1-2 TBSP water as needed
FILLING
6 C fresh cranberries
2 TBSP orange zest
1/2 C orange juice
1 TBSP lemon zest
1/2 C grade A maple syrup
3 TBSP Sunfood Beet Powder
1 C full fat coconut cream (solid part only of canned coconut milk)
1 tsp agar agar
TOPPINGS
Method
Add nuts and oats to a food processor and mix until well combined. Add in salt, dates, and coconut oil and mix until a dough forms. If it's too dry, add 1 TBSP of water at a time. When a ball forms, it's ready.
Press dough into a 9" tart pan. Pierce with a fork a few times. Bake at 350 for 15 minutes. Set aside to cool.
Add cranberries, orange zest, orange juice, lemon zest, maple syrup and beet powder to a saucepan. Cover and simmer for 13-15 minutes, stirring occasionally.
Transfer mixture to a food processor and add coconut cream and agar agar, puréeing until totally smooth. Return to saucepan and heat stirring for 2-3 minutes.
Let cool slightly before pouring into crust. Add toppings. Place in the fridge for at least 3 hours, preferably overnight, to chill. Serve cold.
Recipe and photo credit: @jackfruitfulkitchen