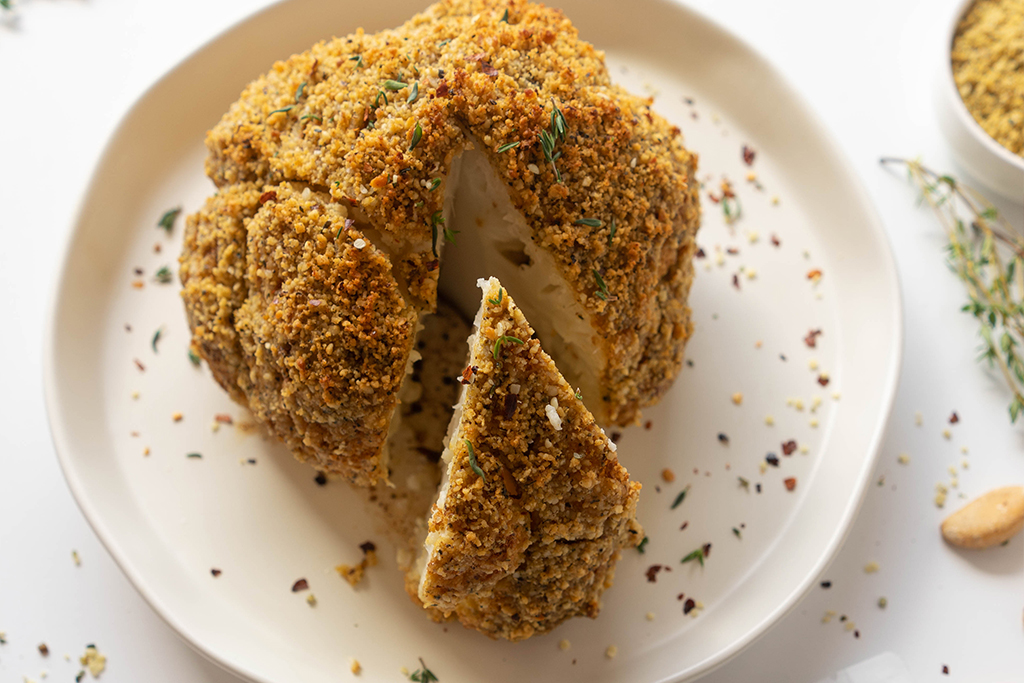 Impress your friends with this whole roasted cauliflower head, cooked to perfection with a caramelized vegan "parmesan" crust. You won't even be able to tell it's made with Brazil nuts, our favorite source of selenium. Serve it up as a side dish or the main attraction - this flavorful crusted cauliflower won't disappoint either way.
Ingredients
1/2 cup Sunfood Brazil Nuts
1 Tbsp Sunfood Hemp Seeds
1/4 cup nutritional yeast
1 tsp sea salt
Herb blend - 1 tbsp each: dried basil, dried parsley, dried thyme, black pepper
1 Tbsp minced garlic
1/3 cup olive oil
1 head cauliflower
Method
Preheat oven to 400 degrees Farenheit.
Lightly oil a baking sheet. Set aside.
Rinse the cauliflower head, pat dry, remove the outer leaves, and carefully cut off the bottom so that it's flat. Be careful not to cut off so much that it falls apart and ensure the head stays intact. Place cauliflower head on baking sheet.
In a food processor, combine Brazil Nuts, Hemp Seeds, nutritional yeast, salt and herb blend. Pulse until a crumbly "parmesan" forms.
In a bowl, mix the "parmesan" with olive oil and minced garlic. Brush mixture onto cauliflower head.
Bake for 45-60 minutes, until the cauliflower is fork-tender and browned.