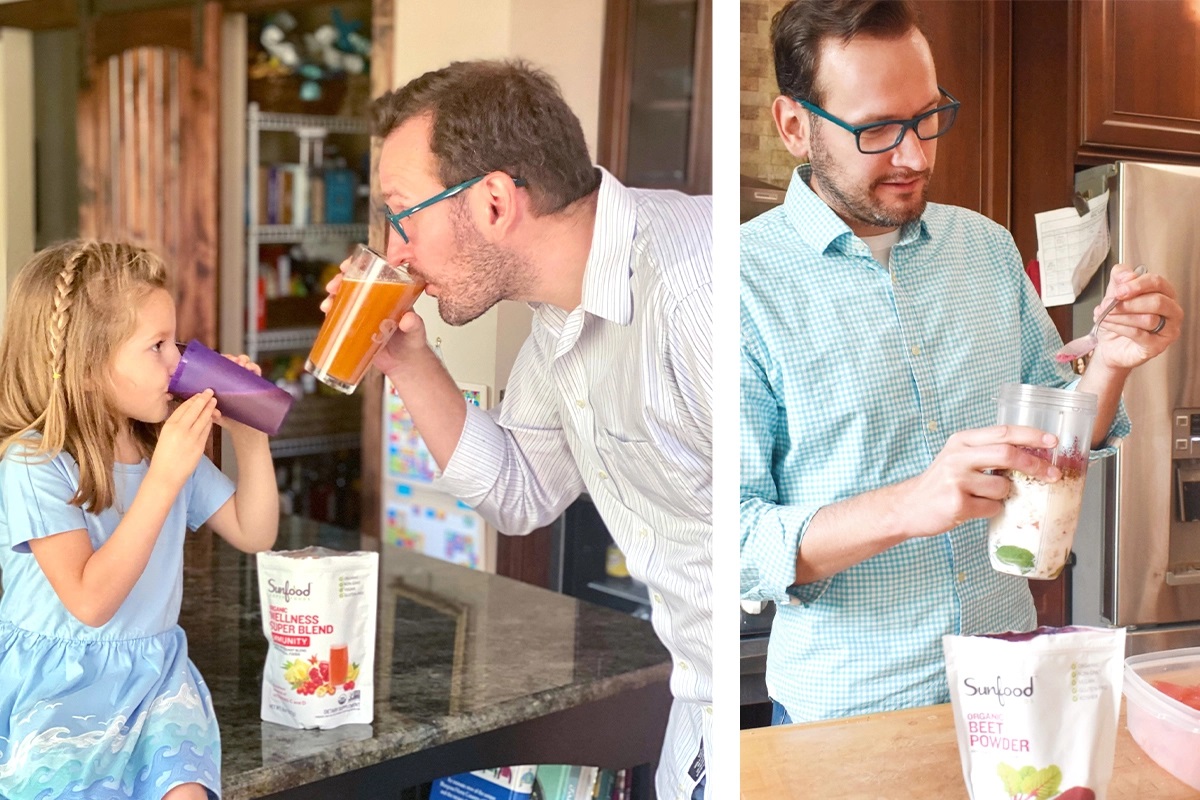 When Dave and Leah became parents, they turned to superfoods because they wanted to set an excellent example of health for their daughter and have the energy to keep up with her! In honor of Father's Day, we're turning the spotlight on Dave. He's a super dad to his daughter and dog and a loving husband to Leah from @tapey1026. Balancing a busy work schedule and being a dad takes a lot of energy. We're happy to share how--with the help of his super wife—Dave incorporates superfoods into his routine to keep his family healthy, happy, and thriving.
When did you realize you needed superfoods?
I do a lot of research about food and how it affects and benefits our bodies. It's important to me to keep my husband and daughter as healthy as possible. I know how beneficial superfoods are for us. I always have several different varieties around, so my husband can choose whichever one he wants when he makes his smoothies.
-Leah
What was going on in your world that caused you to come looking for superfoods?
Becoming parents has made us more aware of our health. We want to do all we can to not only set a good example for our daughter but to have as much energy as possible to keep up with her!
-Leah
What ONE problem would you say Sunfood Superfoods eliminate or lessen for you?
Sunfood Superfoods makes life so much easier - all of the superfoods are already put together for you, and all you need to do is add them to your meals!
-Leah
What ONE benefit would you say you've gotten and valued most from using Sunfood Superfoods?
Knowing that my family is getting superfoods quickly and in a delicious way!
-Leah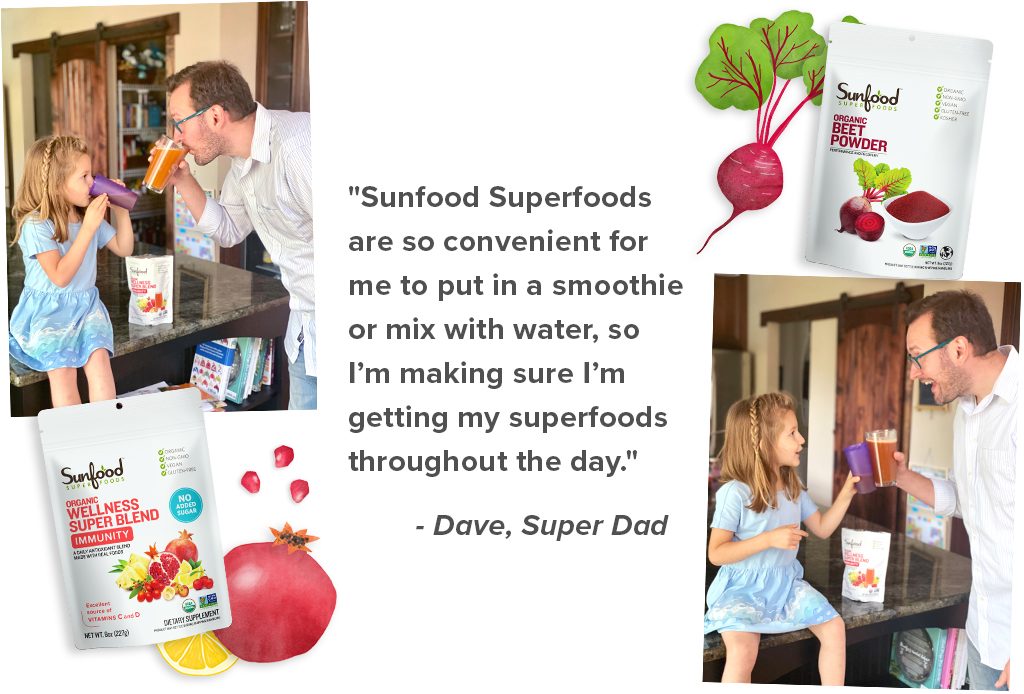 What 3 adjectives would you use to describe Sunfood Superfoods?
Fun, delicious, convenient.
-Leah
How do you include superfoods in your diet?
Some of our favorite ways to use the superfood powder are to add cacao mushroom mix into our coffee, use the greens powder in smoothies, and drink the Wellness Super Blend Immunity with water!
-Leah
What does a typical day in your life look like?
I typically wake up around 6:30 a.m. and start my day before our daughter wakes up around 7:00 a.m. We eat breakfast together as a family, take care of our dog, and maybe do one or two fun activities before starting my workday at 8:30/9:00 a.m. I keep a hectic work schedule, so typically, I'm in meetings or on the phone in my home office until 5:30 p.m. or so when we eat dinner. After dinner, I do the bedtime routine for our daughter, and after she's in bed, my wife and I get to spend time together and relax and unwind. So because I keep a busy schedule, our family needs to have healthy food options readily available since I don't often have time to sit down and prepare an elaborate meal throughout the day. Sunfood Superfoods are so convenient for me to put in a smoothie or mix with water, so I'm making sure I'm getting my superfoods throughout the day.
-Dave
Any advice or messages of encouragement for all the dads (men) and families out there?
Dads - every day is a fresh start and clean slate. Wake up and find something that helps you to center yourself and help put your best foot forward for the day ahead. Deep reflective breaths, affirmations, work out, a morning walk. Find your thing. Our job is to live with and for our families. At the end of your day, find time to celebrate the good and forgive yourself when you weren't your best.
-Dave
Dave's Go-to Superfoods

---
Sunfood's "Natural Solutions" does not promote or suggest natural cures, natural healing or natural remedies for any disease, disorder or ailment thereof. This information should be treated as educational material gathered and discovered from various studies, clinical trials, and customer reviews. It is designed to encourage healthy lifestyles and independent conclusions in regard to natural products and alternative health choices. It is best to consult with your healthcare practitioner before attempting any form of natural cure, natural healing or natural remedy to any health issues.