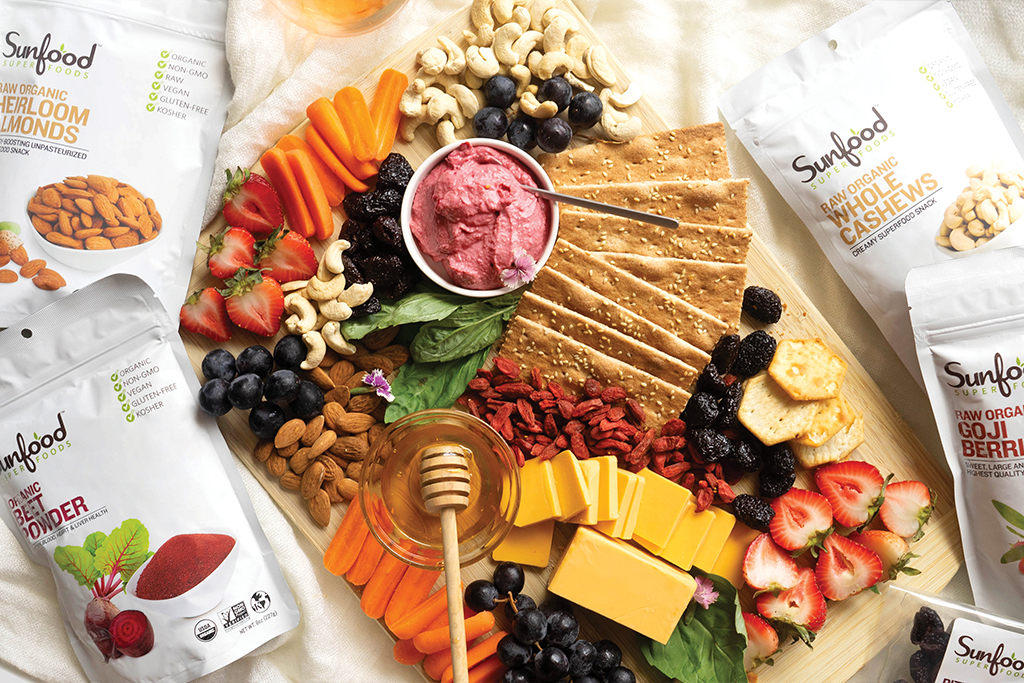 Do you want to impress your friends, family, and followers with a gorgeous, nutritious, and delicious vegan charcuterie board that looks like this but have no idea where to start? We've got you covered. To arrange an impressive charcuterie board, you'll need to break it down into four parts: sweet, savory, crunchy, and fresh. Follow these guidelines, and you'll have a breathtaking charcuterie board every single time. Plus, it's so easy to make it plant-based and superfood-packed.
Sweet
Sweet flavors are a must-have for every charcuterie board. Sunfood Goji Berries taste like a combination of cherries and cranberries. They're a good source of iron, potassium, and fiber for the longevity, vitality, and energy you need. Add these delectable berries to your board for a sweet flavor and nutritional benefits.
Sprinkle some Sunfood Golden Berries on your board for some sundried tangy sweetness. Don't forget to include fresh jam or agave for the guests who have a sweet tooth.
Savory
Let's be honest; savory snacks are the star of charcuterie boards. Hummus is a great choice, and you can easily enhance your hummus game with Sunfood Beet Powder or Turmeric Powder. Not only does beet powder bring stunning color to your charcuterie board, but it's revered by athletes and can help support athletic performance, stamina, and recovery. Turmeric brightens up your board with brilliant yellow color and has a warming flavor.
Just because you're building a vegan charcuterie board doesn't mean you have to skimp out on the cheese! Cashew cheese made with Sunfood Cashews makes the perfect party dip. Our raw organic cashews are packed in 100% UV, moisture, and oxygen-proof pouches, meaning they will remain fresh and delicious longer. Your cashew cheese will be a savory and tasty addition to your plant-based charcuterie board.
Sunfood Botija Olives - we can hardly keep in stock - will make your charcuterie board stand out from the rest. Many black olives are picked long before their peak ripeness, then artificially softened and darkened with a chemical treatment. Not at Sunfood. Our Botija Olives are certified organic and are fermented in saltwater which makes them a gut-friendly superfood.
Crunchy
One can never have too many crunchy options on the charcuterie board. Try gluten-free crackers, raw veggies like carrots and celery, and nuts. Sunfood has a wide variety of crunchy organic nuts, including almonds, Brazil nuts, macadamia nuts, and cashews to highlight the creamy and crisp flavors of your platter.
Fresh
Every charcuterie board needs a refreshing element. Spruce up your board by including in-season fruits like grapes, cranberries, and pomegranates. Sprinkle some fresh edible flowers and herbs like basil, sage, and thyme over your board, and get ready to receive compliments on your board from your guests.
Remember: a charcuterie board is not just an appetizer, a picnic platter, or a cheese plate – it's an experience. Whether you're hosting a fall dinner party or you're looking for fun new ideas for your family, we hope you found this step-by-step guide for the perfect plant-based charcuterie board helpful.
Shop the Recipe
---
Sunfood's "Natural Solutions" does not promote or suggest natural cures, natural healing or natural remedies for any disease, disorder or ailment thereof. This information should be treated as educational material gathered and discovered from various studies, clinical trials, and customer reviews. It is designed to encourage healthy lifestyles and independent conclusions in regards to natural products and alternative health choices. It is best to consult with your healthcare practitioner before attempting any form of natural cure, natural healing or natural remedy to any health issues.