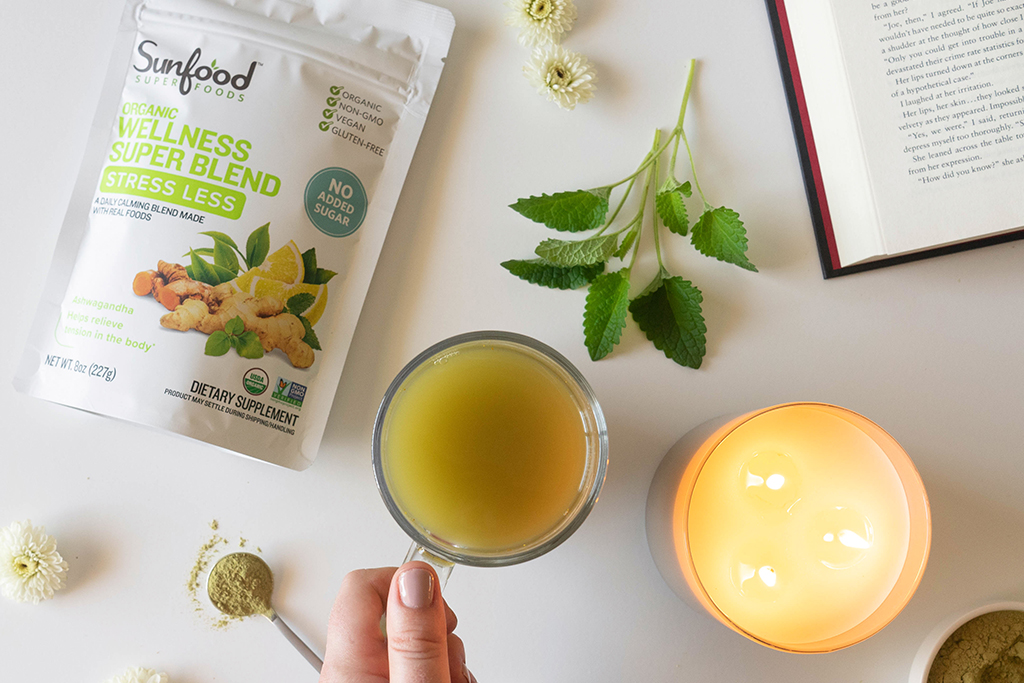 New Years is almost here! What's not to love? Indulgent treats, setting our intentions for the year ahead, cheerful twinkle lights on every corner, warm superfood lattes, and watching the ball drop are some of our faves. We know that in all of the joy, stress is also inevitable this time of the year. Don't worry! You don't have to let the feeling of being overwhelmed come at the price of your mental peace, or interrupt all that scrumptious cookie baking.
Thankfully, there's a lot you can do to counter the effects of stress and help the mind and body feel calm and uplifted. Today, we're sharing our favorite superfood tools for easing stress.
Melt Your Stress Away
"I really like this product! I like the ingredients and feel that
I am doing something healthy for my body." ~Review by Laurie M.


Stress can creep up at any time. Wellness Super Blend Stress Less is a solution that can help keep it at bay, so you can stay engaged and get more done without skipping a beat.

Key benefits:
Made with Ashwagandha, an adaptogenic Ayurvedic herb to help ease tension in the body.
Vitamin C helps reduce the over-taxation of the immune system caused by stress.
Ginger helps calm the gut.
The result is a calmer and more focused you.**
Uplift Your Mood
"I've tried a lot of brands of maca over the years, and
the Sunfood brand is my favorite." ~Review by Dawn.
Maca & Mushrooms is centered around calming Reishi mushrooms that are perfect for winding down. We paired it with an adaptogenic Maca root to help nourish hormones and adrenals. Not only can it help uplift your mood and ease the stress in the body, but it tastes like a cozy chai latte.



What's inside?

Maca
Reishi mushrooms
Coconut
Cinnamon
Ginger
For a More Rested You
"Since incorporating Sunfood's Wellness Super Blend Sleep Well blend into my evening routine, I've found that I am able to fall asleep more quickly, and sleep much more deeply.
I wake up refreshed and ready to start my day!" ~Review by Paola.
If stress gets in the way of your sleep, Wellness Super Blend Sleep Well can help the body prepare for a night of restful sleep.


Chamomile can help soothe and prepare the body for a deeper sleep;
Coconut water can help ease muscle tension;
Tart cherry - a natural source of melatonin can help support the body's natural rhythms.**


**These statements have not been evaluated by the Food & Drug Administration. This product is not intended to diagnose, treat, cure or prevent any disease.