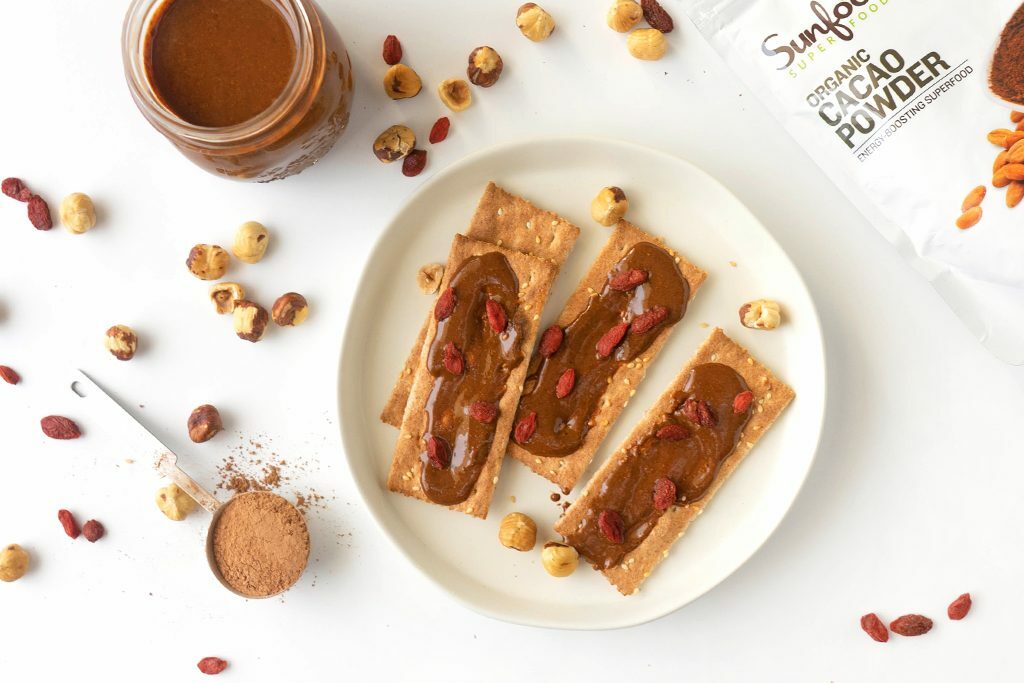 New classes, fresh notebooks, and long nights solving math problems — school is back in session! It means you and the kiddos need energy more than ever. Having superfoods on hand is an easy and convenient solution to keep hungry tummies full of nourishment. Got picky eaters at home? Try these kid-approved recipes featuring some of our favorite superfoods that will satisfy the kids and keep the parents sane.
DIY "Nutella"
Do you know the secret to becoming your kids' favorite parent? Homemade "Nutella!" This super easy DIY hazelnut chocolate spread with organic Cacao Powder is fun to make with the kids and enjoy together. Just a few ingredients, and you'll become your family's favorite chef. Promise! Get the recipe.
A Perfect Craving Fixer
We can reminisce for hours about our favorite ways to eat peanut butter. A staple for many, peanut butter, or almond butter, is even better when coupled with superfoods. We call it a perfect craving fixer, and it checks off all the boxes: peanut butter, superfoods, delicious, satisfying, and is a mom-approved swap for a sugary treat. Get the recipe.
One and Done
We don't skimp on the number of superfoods we pack into each serving, and our Superfood Smoothie Mixes are proof. Need a quick and nourishing breakfast or a snack idea? Chocolate Superfood Smoothie Mix has it all: 13 potent superfoods, decadent chocolate flavor, and grain-free plant-based protein. Mix it with water or plant-based milk. Delicious and satisfying for happy kids and parents!
Do your kids play sports?
Then you know how hungry they can get. Make Mac Nut Energy Bites ahead of practice, and watch your kiddos devour them in no time. Get the recipe.
Creamy Chocolate Cashew Clusters
These clusters are a perfect afternoon snack when you need a pick-me-up boost for extra energy and focus. They're easy to make, decadent, and satisfying. The sweetness of blueberries and creamy cashews balance rich cacao making for an irresistible flavor combination. We hear kids love these too! Get the recipe.
Shop the story
---
Sunfood's "Natural Solutions" does not promote or suggest natural cures, natural healing or natural remedies for any disease, disorder or ailment thereof. This information should be treated as educational material gathered and discovered from various studies, clinical trials, and customer reviews. It is designed to encourage healthy lifestyles and independent conclusions in regard to natural products and alternative health choices. It is best to consult with your healthcare practitioner before attempting any form of natural cure, natural healing or natural remedy to any health issues.