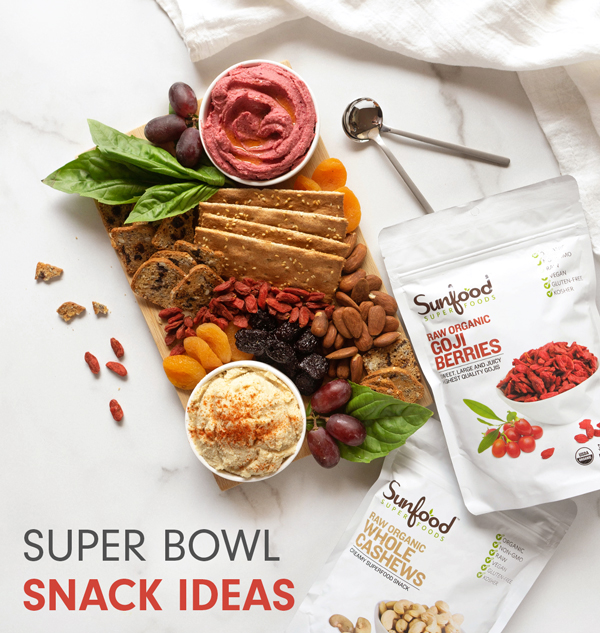 Super Bowl Weekend is almost here, and if you're anything like us you're probably already looking for some fun and healthy snack ideas to impress your family and friends. Here are our top Vegan Snack picks that will knock their socks off:
Pair savory notes with sweet and tangy flavors for indulgent combinations.

Dips: hummus, fig jam, cheese, pesto spread.
Fruits & Berries: goji berries, apple and pear slices, dried apricots, Botija olives, grapes, figs, dried mango slices.
Nuts: cashews, macadamia nuts, peanuts, walnuts, almonds, pistachios.
Crackers & Bread: sesame crackers, sliced baguette, pita chips, pretzels.
| | |
| --- | --- |
| | We couldn't help but add some of our favorite superfoods to give this crowd-favorite a superfood twist. Moringa Powder and Maca Powder are here to kick things up a notch. I don't think we need to convince anyone that this might be the most perfect snack of all time, any day of the year. See recipe . |
| | |
| --- | --- |
| | They're superfood nachos — a crunchy, cheesy plant-based snack. They are made with cashews and turmeric, plant-based, and are good for the planet and your wellbeing. Grab your favorite tortilla chips and dive into this flavorful superfood snack. See recipe . |
| | |
| --- | --- |
| | Impress your friends with this whole roasted cauliflower head, cooked to perfection with a caramelized vegan "parmesan" crust. You won't even be able to tell it's made with Brazil nuts, our favorite source of selenium. See recipe . |
| | |
| --- | --- |
| | This vegan mac and cheese definitely stole our hearts. For one thing, it is SO easy to make and is an old-time favorite. Secondly, it requires simple plant-based ingredients that we usually have on hand at home. See recipe . |
| | |
| --- | --- |
| | And for the sweet moment, these Golden Vegan Vanilla Donuts are as fun to make as they are to devour. Give them a whirl and watch them disappear from the table. See Recipe . |